Disclosure: Compensation was provided by The Home Depot. The opinions expressed herein are those of the author and are not indicative of the opinions or positions of The Home Depot.
---
The temperatures will soon turn cooler and it will be time for pumpkin everything! If you are someone who loves pumpkins, enjoys decorating your home for the season, and doesn't mind doing a little DIY… I have just the project for you! This Rustic Pumpkin Stand, part of the Do-It-Herself Workshops held monthly at The Home Depot, makes fabulous fall decor.
Rustic Pumpkin Stand
Dress your front door or other area of your home with this fun and festive fall pumpkin stand. Whether you add a bit of fall foliage or toss in trick-or-treat candy, it is an ideal way to add a stylish, creative touch to your home. The best part is you can easily learn how to make the Rustic Pumpkin Stand at a Do-It-Herself Workshop near you. The workshops held at The Home Depot each month are meant to empower women with the skills and knowledge to take their home improvement project plans from dreams to done.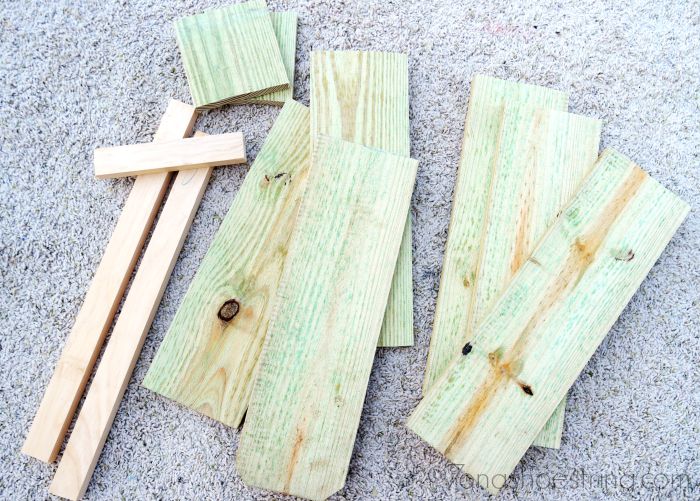 This fantastic fall idea is easy to make and instantly creates an ambiance of autumn to any area. Not to mention, each Do-It-Herself Workshop project can build your confidence with tools and to fine tune your DIY skills. You may start with the stand but you will be ready to keep going throughout the year. Let's start today and build this Rustic Pumpkin Stand!
Supplies:
(2)  72″ x 5-1/2″ Fence pickets, square edged preferred
(1) 1 x 2 x 4 feet long (can cut a 8 foot long 1 x 2 in half for use on two projects)
1″ staples
2″ staples
Exterior wood glue
In addition to the supplies above, you will also need a circular saw (or miter saw), measuring tape, jigsaw, Ryobi Airstrike Crown Stapler, clamps and carpenter's pencil. Once you have all of the materials, you are ready to begin building your Rustic Pumpkin Stand. Begin by cutting each of the pickets and boards into the lengths needed for the project. Using the circular saw, make the following cuts:
(for pumpkin)
 (4) Fence pickets cut into 18″ long pieces (length can be flexible to accommodate all four cuts on a single fence picket)
(2) 1 x 2 @ 20″ long
(1) 1 x 2 @ 8″ long (length can be flexible to use up scrap wood)
(for front box) it is important to cut straight and accurate to the cut list
(1) Fence picket @17″ long
(2) Fence pickets @ 5 ½" long
(1) Fence picket @ 16″ long
Once all the cuts are made, we are ready to build.
Lay the four fence pickets flat onto your work surface equal distances apart. Overall, the width from end to end should be about 23″. Place the 20″ long 1 x 2s on top of the pickets, with about 1 ½" gap on either end. (TIP: Use the stem as a guide for measuring distance from the edges).
Using the wood glue and two 1″ staples per overlap of 1 x 2 and each fence picket, secure 1 x 2s to the fence pickets 4″ from top/bottom. After securing each of the pickets to the 1 x 2s, flip the entire project over and add an additional two staples per overlap of fence picket and 1 x 2 to secure fence pickets from the front. Be sure not to staple within 1″ of the edges because there is no 1 x 2 backing along there.
Now it's time to add your own flair. Draw a pumpkin shape on the front of the boards making sure to start 3″ in at the bottom edges. Stay aware of the 1 x 2 supports when drawing in order to avoid cutting through them to create your pumpkin. Keep the shape organic and unique to make it your own!
Using the clamps, secure the project to your work surface to prepare to cut. Once secure, use the jigsaw to carefully cut out your pumpkin shape. After completely cutting out the shape, remove the clamps and grab the stem (8″ 1 x 2). Place it in the center of your pumpkin and attach with both glue and 2″ staples.
Next, it's time to add the box to the front of the project. Attach the front of box to the sides of the box using glue and 1″ staples. Apply glue along three edges of bottom of box. Place bottom of box inside front and sides. Staple in place along side and front edges with 1″ staples.
You are now ready to attach the box open side up onto the work surface. Apply glue along top edges then place the pumpkin on top, aligning the bottom edge. With 1″ staples, secure the bottom of pumpkin to bottom of box. A straight edge is helpful in guiding you when stapling the pumpkin to the sides of the box.
You're almost done! Sand any rough edges with a sanding block then apply a paint or stain as desired. My dad, a crafted carpenter by trade, always taught me to appreciate wood, so I chose to leave mine natural. The treated fence pickets we used had a fabulous hint of both green and orange and were perfect! A little green paint on the stem and I loved the finished look!
Make sure to display your handiwork for all to see and enjoy the charming craft you made all by yourself! Plus, be sure to sign up for the next DIH Workshop at The Home Depot near you. It is a hands-on workshop that gives you a great opportunity to fine tune your DIY skills, as well as gather tips and advice from the pros for all of your home improvement projects. Enjoy creating!