---
Did you see our new kitchen? Okay, it may not be new, but it looks like a completely different kitchen thanks to our partnership with The Home Depot, right?
Not sure what I'm referring to? Head over to see how we transformed our builder grade kitchen into a farmhouse kitchen!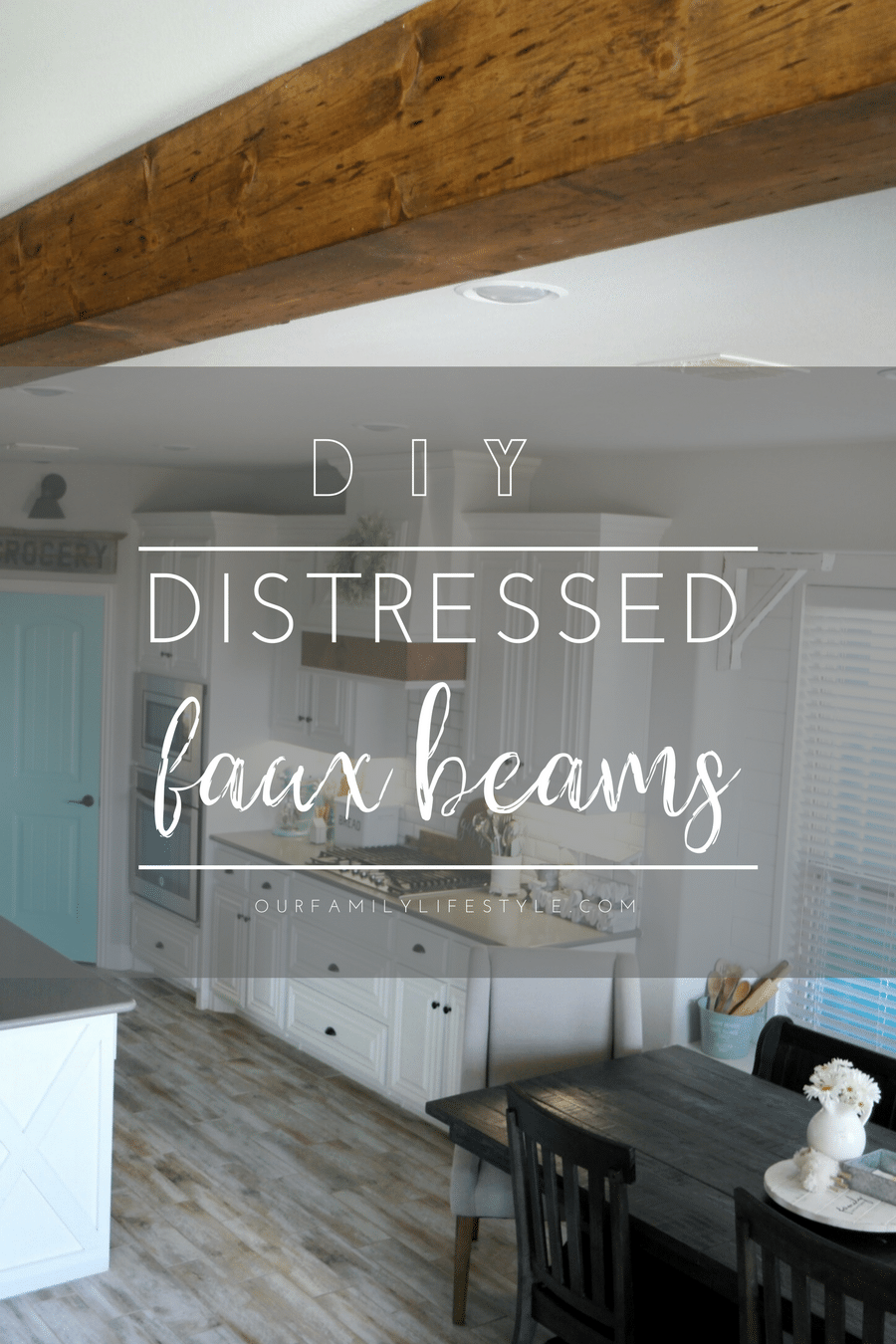 Faux Beams DIY
Two of my favorite parts of the whole restyle are the DIY distressed faux beams in the kitchen.
What type of wood is used for faux beams?
Y'all, we took three common pine boards, beat them with chicken wire (because it's what we had on-hand) and a large chisel, stabbed them with a screwdriver, and ran a hand weeder down them.
How do you make a fake hand hewn beam?
We wanted to give the wood beam a good rustic look, and this was one way we found to make faux beams.
I think Colby had a bit of fun doing this actually; especially when it came to the chicken wire. It looked like a great stress relief exercise if I'm being honest.
How do you make a faux barn beam?
In fact, it addition to beating the wood with the rolled bunch of wire, he would also grate the boards with it. Basically, these beautiful distressed ceiling beams now hanging in our kitchen are faux hand hewn beams.
I kinda love that!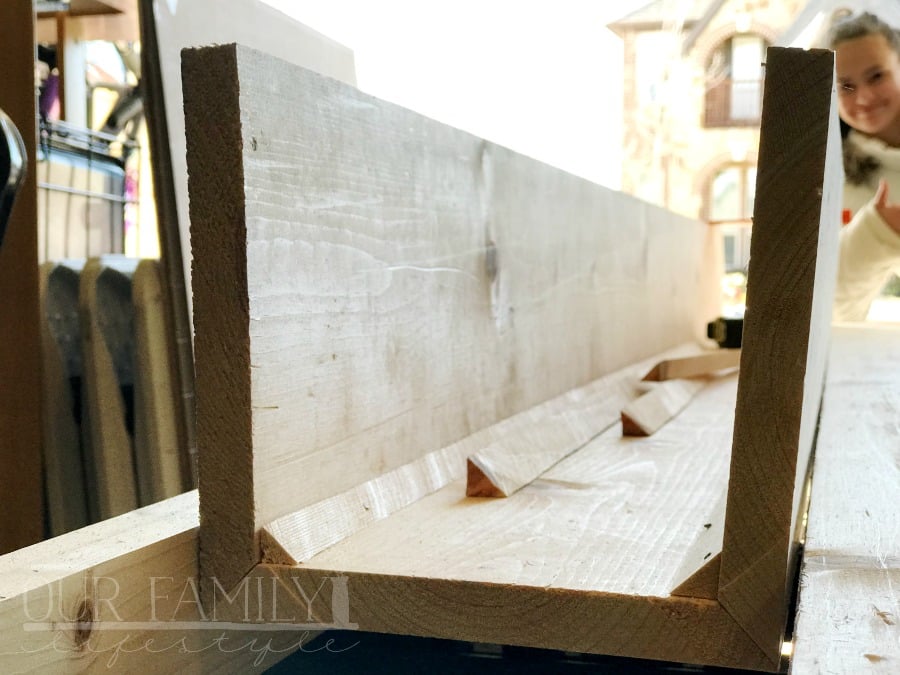 Once we had all of the wood distressed to our liking, it was time to assemble the decorative faux beams.
How do you make faux wood beams?
Colby cut one side of two the boards at a 45° angle. The middle board needed two 45° angle cuts on each of the long sides.
How do you make a box beam ceiling?
Then, he lined each angled side up to make a U-shaped, three-side faux beam from wood. Using the angled cuts trimmed from the side boards, he added some stability to the beams by nailing the pieces inside as shown above.
How do I make my ceiling beams look like wood?
Next, it was my turn. We tried two different wood stains to see which we liked best (Jacobean which we used on our farmhouse table and Early American).
After letting the stained wood beams dry overnight and putting it to a vote on Instagram, Minwax Early American won.
Good thing because it was my favorite as soon as I applied it. Therefore, I stained the outside of each distressed ceiling beam with the wood finish.
After they all dried completely, it was time to bring the DIY faux beams inside to hang on the ceiling. Now, as exciting and easy as that may seem, it was a bit of a chore for us.
How do you attach faux wood beams to the ceiling?
My dad is a retired carpenter. Therefore, we worked under his guidance during this process.
Now, perhaps our idea of building codes was a bit skewed, but we were looking for the ceiling joists to be every 16″ to 18″. That wasn't the case in our ceiling. We weren't getting a reading using our stud finder, so we had to go old school—drilling until we hit something solid.
We would then measure and drill again. We soon discovered our joists were anywhere from 21″ to 24″ apart.
Can you add wood beams to ceiling?
So, once you can determine where your joists are, it's time to attach the cleats that you will be nailing your beams into place with.
We popped a chalk line to keep us straight as far as the outer edge of the cleats and began screwing the DIY faux wood ceiling beams into place.
You're done! I mean, I had to do some touch up paint on the columns because it was tight fit with the beams (which was intentional) but otherwise, this is the last step!
Are wood beams in style?
And the difference? WOW! I have envisioned these faux wood beams in the kitchen ever since we were building.
I knew exactly where they would go and could not wait to see them in the space. I knew they would look fabulous–and I was totally right!
Do faux beams look real?
Look at those faux distressed beams and how much depth they add to the space!
DIY Distressed Faux Beams
Additional Time:
12 hours
Make DIY Distressed Faux Beams using three common pine boards, chicken wire, and hand tools to give them a distressed look.
Tools
circular saw
hammer/nail gun
nails
hard materials for distressing wood
tape measure
Instructions
Distress boards with hard materials (we used chicken wire, large chisel, screwdriver, and hand weeder) to create your desired distressed look.
Cut one side of two (2) boards at a 45° angle.
Cut middle board with 45° angle along both of the long sides.
Line each angled side up to make a u-shaped beam.
Stain beam and let dry.
Measure for ceiling joists and mark.
Attach ceiling cleats.
Screw wooden beams to cleats.
Recommended Products
As an Amazon Associate and member of other affiliate programs, I earn from qualifying purchases.