---
Well, well… the time has come. Maleficent is finally in theaters and expected to do fairly well with audiences. There are so many questions about the story-line and how it relates back to the Disney classic, Sleeping Beauty. But, the one thing you have to realize is, this is MALEFICENT's story. Not Aurora's. The truth, if you will, behind her curse on the baby and evil desires. Are you ready for the truth even if it is not exactly what you think it is?
Maleficent
Let me preface by saying, if you are expecting a non-stop, dark thriller, you may be disappointed. That seems to be the main "let down" in the world of movie critics I have scoured through already. Maleficent is different. Maleficent's story is stunning. Redemptive. Believable. For me, it was magnificent.
Because I believe knowing the full story before you see the movie will lessen your watching experience, I will do my best to leave out spoilers. I know that personally I was fully immersed as I watched awaiting the next plot twist. Yes. There are twists. Unexpected turns and variations from what you THOUGHT was true about Maleficent.
In fact, everything you thought was true… most likely isn't.
Think about that and have an open-mind when you watch Maleficent. Be prepared to have gaps in her story from Sleeping Beauty filled and see her true story come to life. Heart break. Devastation. Revenge. Redemption. Healing. It's all a process that creates an amazingly beautiful moral you would not think one could learn from Disney's most iconic villain.
"Maleficent" explores the untold story of Disney's most iconic villain from the classic "Sleeping Beauty" and the elements of her betrayal that ultimately turn her pure heart to stone. Driven by revenge and a fierce desire to protect the moors over which she presides, Maleficent cruelly places an irrevocable curse upon the human king's newborn infant Aurora. As the child grows, Aurora is caught in the middle of the seething conflict between the forest kingdom she has grown to love and the human kingdom that holds her legacy. Maleficent realizes that Aurora may hold the key to peace in the land and is forced to take drastic actions that will change both worlds forever.
Angelina Jolie does an exceptional job in her role as Maleficent. The evolution of her character takes Maleficent through a series of emotions and choices based on the turmoil. Her story is exposed and the truth behind her anger and bitterness revealed. True love… or the promise of… brings forth only betrayal and pain.
Sharlto Copley, in an incredible display of talent, encompasses the passion and malevolence of King Stefan. He becomes the villain no one foresaw in Sleeping Beauty. No longer just the despairing dad we have seen him as before. King Stefan has a shaded past and we see his true colors in action through his tattered relationship with Maleficent.
Sweet Aurora, played by Elle Fanning, is an innocent pawn played between both her father and Maleficent. Raised by her "Aunts" in the woods, she knows nothing of the treachery surrounding her. She happens upon the truth one day and it completely changes her path.
Throughout the 16 years of Aurora's life, Maleficent has but one constant companion, Diaval, the raven. Sam Riley was remarkable in his role as I felt he portrayed part of Maleficent's conscience throughout the movie. The one being closest to her, he knew her heart better than anyone and was, perhaps, the only one not surprised by the tangled turn of events.
Overall, the cast created a division of worlds between the humans and the Moors that was believable and fantastic. With Director Robert Stromberg's extensive history in art design, the scenes were beautifully presented and full of Disney magic. Mostly though, I enjoyed the contemporary twist on a classic tale…
…maybe there is a deeper love that we are not seeing. A love that we are missing that may be right in front of us.
And it may not always be who we think it is. It may not always be Prince Charming. It may be the one person you least expected.
Is it too scary for kids?
This is the number 1 question I have heard again and again from parents. The trailer shows a dark, deep movie full of turmoil and despair as Lana Del Ray sings "Once Upon a Dream." The movie is not all like that. It is rated PG and should be perfectly acceptable for children 7 and up. In fact, my 4 year old would most likely be fine watching it. My 8 year old is super sensitive (she won't go to Medieval Times because of the jousting) and really wants to watch it. My 10 year old did go see it this past week and even recorded her own review for you. Take a look:
So, you know your child(ren). If they are a bit on the sensitive side, perhaps wait a little longer. If they were able to sit through Disney's Oz the Great and Powerful or Alice in Wonderland (both past works of Robert Stromberg), they should be fine watching Maleficent.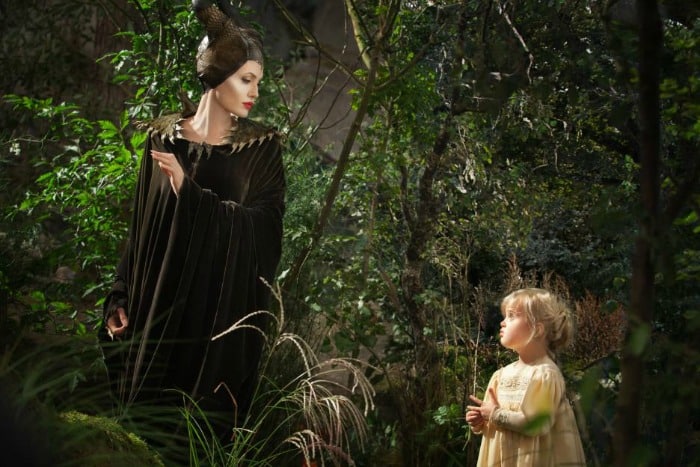 Maleficent is now in theaters everywhere. Like Maleficent on Facebook and follow @Maleficent on Twitter, as well as the hashtag #MaleficentEvent to learn more about the movie plus our cast and crew interviews.