People are going to get mad or think I've gone mad, but I have a confession.
This post may contain affiliate links, which means I'll receive a commission if you purchase through my links, at no extra cost to you. We are a participant in the Amazon Services LLC Associates Program, an affiliate advertising program designed to provide a means for us to earn fees by linking to Amazon.com and affiliated sites. [Learn more]
I have taken my kids to Walt Disney World (and Disneyland) without planning a thing. Not one single thing, Y'all.
Walking into the Magic Kingdom is like stepping into a fairytale. The gleaming Cinderella Castle dominates the skyline, while charming music and the scent of freshly made popcorn fill the air.
It's easy to see why Walt Disney World is the Most Magical Place on Earth. But for many first-time visitors, the cost and logistics of planning a trip to Disney World can be daunting.
However, it is possible to enjoy all the park has to offer without spending weeks planning ahead.
Do Disney World Without Planning
Yep. I did it. No character meet and greets, no restaurant reservations, nothing. The only planning involved is buying the park hoppers, booking a hotel, and getting there. That's it.
Walt Disney World is the most magical place on earth, and there's no need to plan every detail of your trip.
Yes, it's helpful to book your FastPasses and dining reservations in advance, but you can also enjoy the magic of Disney without a meticulously-planned schedule.
Here are a few tips for making the most of your Disney vacation without too much planning:
As we settle in for the evening upon arrival, I ask the kids, "What park do you want to go to first?" We discuss the choices and make a decision. BOOM! We have a plan.
Once we arrive at said Disney park, the question then becomes, "Which way first?" The kids think about their favorite rides and where they are.
We typically choose the first ride we want to go on and then head that way. BAM! We are doing it!
Along the way, we might happen upon a Disney character or discover another ride that looks like fun. That's okay.
There is no set schedule to deviate from. We just take a little detour and then get back on our way toward our original destination.
Oh, and if we get hungry? We look around where we are and find somewhere to eat. Then, we eat.
(Note: we do buy Disney gift cards to stay on budget when it comes to eating at the parks).
As the day goes on, we evaluate how everyone is feeling. Do we need to rest for a bit in the room?
Does anyone want to take a break and go for a swim? Are we ready to head to a different park? The opportunities are endless at Disney World, right?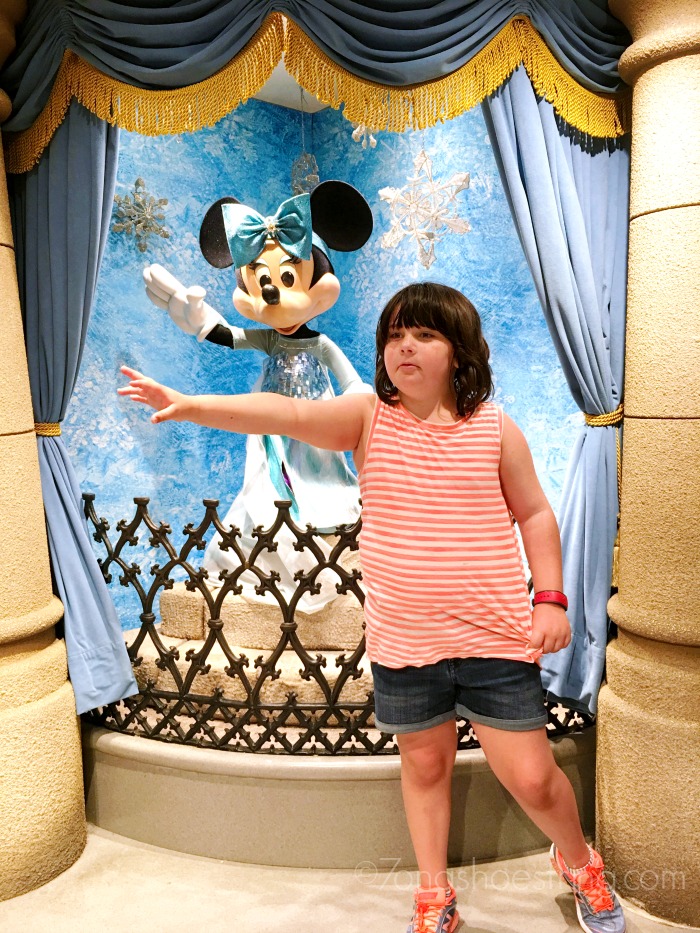 Plus, with our "no expectations" way of doing things, every part of the trip is magical. We aren't pulling the kids from one ride to the next to make a dinner reservation.
No standing in lines for a picture with characters. (My kids get excited just to SEE them. No pics or autographs are needed unless readily available to them).
Just a whole lot of memories being made.
Now, again, I get that some people need to plan the trip. They want to make sure they experience as much as possible.
For example, they always want to find the best Disney cruise ship that will take them through the area and show them everything there is.
These trips bring out the magic of the parks and make sure everyone has a great time.
If this is your one and only shot at visiting a Walt Disney World park? Absolutely! Our first trip we had one day. One park. Magic Kingdom.
Completely spontaneous visit. It rained the whole day but we just pushed through and enjoyed every minute.
Also, food restrictions? Yes, restaurant reservations are essential. Or, at the very least plan meals according to the food services available to you at the parks. This last trip though?
We walked up to Be Our Guest and asked about cancellations. We were seated right away and enjoyed one of the best restaurants in the park… without a reservation!
That's how we do it. I may be too laid back for some, but the kids have enjoyed every trip to Walt Disney World without complaints.
Before the last day, we ask if there is anything else they want to do before we leave. Yes? We do our best to get it done. No? Well then, we did it all!
BOOM! Done.
The key to a successful, stress-free trip is to be flexible and go with the flow. That means being open to whatever happens, and not having a rigid plan that you're determined to stick to.
Obviously, you'll need to have some sort of plan in place before you go. But once you're actually on your trip, be flexible and be prepared to change your plans if necessary.
If you're the type of person who likes to plan everything out in advance, that's fine. Just don't be surprised or disappointed if things don't go exactly according to plan.
Sometimes the best experiences are the ones that you didn't plan for. So relax, enjoy yourself, and go with the flow.
More Tips on Disney Without a Plan
Spend some time each day exploring a different park. stroll down Main Street, USA in Disney's Magic Kingdom, hop on a safari in Disney's Animal Kingdom, or check out the rides and attractions in Disney's Hollywood Studios.
No matter which park you visit, there's sure to be something new and exciting to see.
FastPasses are a great way to skip the lines for popular rides but don't forget about Disney's Single Rider lines. If you don't mind riding with strangers, these lines can be a great way to save time (and sometimes even get a better seat on the ride!).
Take some time to relax each day, whether it's watching the fireworks from your hotel room balcony or taking a dip in the pool. With so much to see and do at Disney, it's important to take a break now and then.
Disney is full of surprises, so go with the flow and see where the day takes you. You might just find that some of the best memories are the ones you didn't plan for.
Last notes?
Buy a Memory Maker PhotoPass! No camera is needed. Stop by the photographers in the park and get pictures at the best photo spots! Plus, you get pictures (and sometimes videos) from most of the rides. Priceless memories captured.
Download the My Disney Experience app. You will be able to find dining, rides, and even restrooms near you at any point within Walt Disney World. This comes in extremely handy when you are "playing things by (Mickey) ears!"