---
Every good superhero has a sidekick… or two or three… right? Marvel's Ant-Man has three guys who come alongside him to help out. The "Antourage" as they have been dubbed by one of their own, Kurt (played by David Dastmalchian). And these three are quite comical.
Ant-Man's Antourage
From the moment Michael Peña, T.I. and David Dastmalchian walked into the room, hilarity ensued. The three of them together created a perfect blend of comedic chemistry and they kept us laughing throughout our conversation.
Each one brought his own element of humor and personality to the trio and were all fascinating to talk to.
Once you watch Marvel's Ant-Man you will get a feel for just how funny the Antourage is.
Luis (Michael Peña) is one crazy storyteller in the movie. I had to ask him if his character was anything like he is in real life. It was surprising to hear him explain that he was actually a quiet kid growing up.
He says he still gets Facebook messages from old classmates stating, "out of all people to be an actor, you're the guy?"
Spending 5 minutes in the room with Michael and I couldn't believe it either. He's hilarious without even trying.
In fact, Michael Peña told us he was the captain of the wrestling team and track team and loved sports.
Sports gave him an outlet and was the only way he found to really make friends. But, he was also "kind of a nerd."
His character in the film, Luis, is based on a guy he knew from his neighborhood. He told us a few stories about this man he knew and how he built this role off those memories.
Michael has actually been waiting for the the right movie to interject this character and he nails it in Ant-Man. Peña calls Luis an "optimistic criminal" and plays the role well.
He seriously has some of the funniest parts in the film!
David Dastmalchian (Kurt) explained to us how he spent 45 minutes in the chair getting his hair just right for his character. 
Make-Up Artist Greg Funk did the tattoos for his character and David said, "it's a cool thing when you're an actor and you get the physical world that's created for you."
And once you see David in character, you pretty much feel as though the part was made for him. It fits him perfectly!
T.I. had a pretty busy schedule when he was asked to play the part of Dave in the movie.
He actually told us that there were rumors of him being in the film before he knew he was going to do it.
After reading for and being officially offered the part, T.I. said he had to "find a way to re-arrange the rest of [his] schedule to actually take advantage of this great opportunity."
Fortunately for all of us, it seems to have worked out.
Michael and David said T.I. would fly in from places like Africa to do his scenes the following morning.
With all of the sacrifices made for all three of these guys, it played off well for them. There are no small parts in Ant-Man (not even for the ants) and the Antourage really helps bond the movie.
They create a fun, comedic supporting cast that propels the movie and connects the world of superheroes and criminals together for a good cause.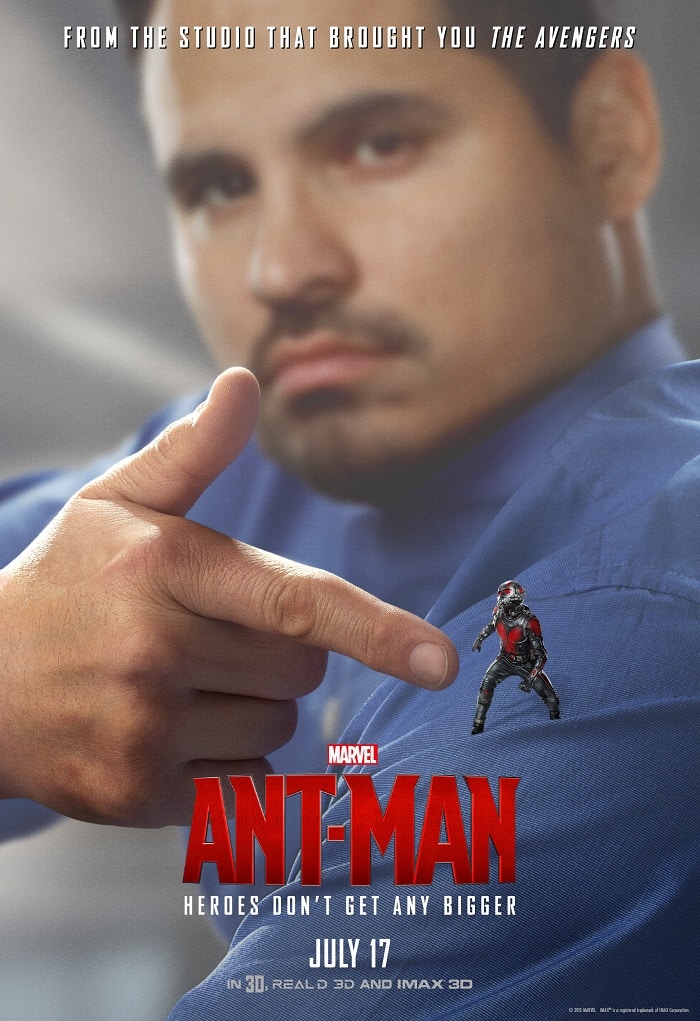 Don't miss Marvel's Ant-Man as it crawls into theaters Friday, July 17th.