One Christmas flavor I am particularly fond of is Peppermint. Whether it be candy, a drink, or a sweet dessert, I am all about the Peppermint. As I was in the store one day I passed a baking display where I spotted a bag of Peppermint pieces that I could not pass up. I seriously had to grab it… and then figure out what I could make with it. I mean, I had to give Colby a reason for buying it other than I wanted to eat the whole bag. So, my go-to recipe it was: Peppermint Crunch Bark.
This site contains affiliate links. I may receive a commission for purchases made through these links. As an Amazon Associate I earn from qualifying purchases. [Learn more]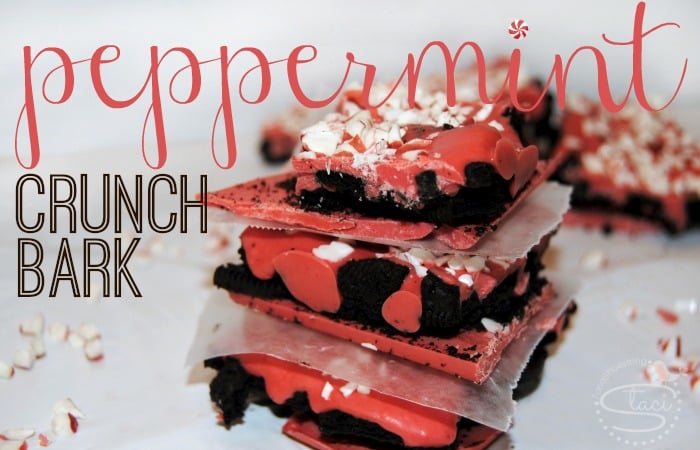 Peppermint Crunch Bark
Ingredients:
Andes Peppermint Crunch Baking Chips (10 oz)
Mint Twists Crushed Peppermint Candy
Oreos (crushed)
Directions:
Prepare a double broiler (or grab 2 pots of different sizes… 1 for boiling water and 1 for chocolate) and melt the Andes Peppermint Crunch Baking Chips. 
Line a cookie sheet with wax paper and pour ½ of melted peppermint onto it.
Chill in fridge 10-15 minutes until set.
Add a layer of crushed Oreos. Then top with rest of the melted peppermint.
Finalize with crushed peppermint candy and chill in refrigerator again.
Once set, break (or cut) into serving-size pieces and enjoy!
Yum! Does it not have your mouth watering? 
Okay. This only got me wanting more Peppermint flavored treats. So I asked my blogger friends for some of their best recipes and they started sharing. Now, I get to share with you. As you sit and enjoy the bark above, head over and check out 60 more tasty peppermint recipes.
60 (+1 above) Peppermint Recipes
Why are you still reading?
Go make some delicious peppermint goodies!