Disclosure: I have partnered with Fruit Shoot™ to share with you how my kids are enjoying the outdoors this summer.
---
Does your family enjoy a little friendly competition? With the summer Olympic games happening in Rio this year, we were inspired to host our own backyard games.
Backyard Games
After setting up the backyard games idea and enjoying the day, we can't wait to set it up in a few weeks for our family reunion.
This post may contain affiliate links, which means I'll receive a commission if you purchase through my links, at no extra cost to you. We are a participant in the Amazon Services LLC Associates Program, an affiliate advertising program designed to provide a means for us to earn fees by linking to Amazon.com and affiliated sites. [Learn more]
Being sure to pack up all of our supplies and plenty of drinks to keep everyone hydrated, we are excited about creating this fun activity for kids.
After looking through the items we had on hand, and finding more amazing items at the store, we came home and began constructing our backyard games "arena."
Even though we had limited space, we were still able to incorporate several fun competitions into our backyard summer games competition.
Of course, we also made sure to set out food and drinks to enjoy as we competed. The celebration-themed food was part of our backyard Olympic games and easy to put together.
In addition to water, we also had plenty of Fruit Shoot™ on hand for the kids. 
It is a great-tasting fruit juice drink for kids and comes in a variety of of no sugar added flavors – with 20 calories or less and three grams of sugar.
This also means we can make sure everyone's favorite is included.
Not to mention, the sports cap is perfect for grabbing and drinking while participating in outdoor activities.
After all, the kids hardly like to stop when they have games to play and a fierce competition to win in these
backyard games for kids!
More super simple food ideas included Olympic torches made with nothing more than ice cream cones and chips. Our 6 yr old put them together herself.
These gold medals took all of 2 minutes to put together. A fruit strip and sandwich cookie combined for these treats that doubled as awards for the fun outdoor games.
Adding a touch of the water sports required nothing more than a few celery stalks, peanut butter, grapes and pretzel sticks. Easy and perfect for the outdoor games event!
Next, we began our games! After gathering supplies that included, pool noodles, wiffle balls, soccer balls, and even a giant inflatable ring toss, we were ready to get started with our fun games to play outside.
Pool Noodle Hurdles
These hurdles help keep small knees from getting banged. We inserted two pencils into the ground far enough apart to create a soft arc in the pool noodle.
We then slipped each end of the pool noodle over the part of the pencil sticking out of the ground.
After a few trials, we positioned the hurdles a pool noodle and a half apart. Then it was simple as "On your mark! Get set! Go!" to get this fun outside game going!
Javelin Throw
Using long, thin water shooters, we cleared an area long enough for throwing the "javelins." After a quick lesson in HOW to throw a javelin, the girls enjoyed seeing who could throw the farthest.
Soccer Kick
Have some sidewalk chalk? Draw a goal with points on a fence or wall and then set up a soccer ball.
Kick a few goals and keep score of each participant's points to tally in the outside games.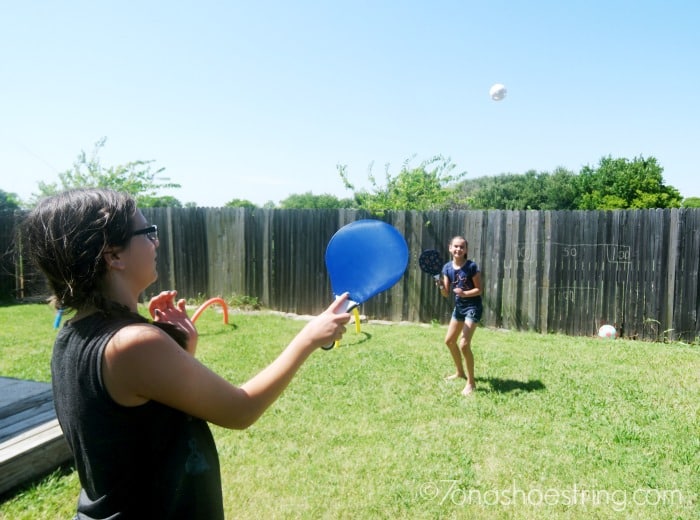 Tennis
Okay, so maybe not tennis since we have limited yard space, but an inexpensive paddle and ball set are perfect for backyard tennis.
Discus
We couldn't hand the girls a heavy metal discus, but a plastic disc was perfect for them while playing outside. Again, we made sure to teach them proper technique then measured each throw.
Shot Put
Same as with the discus, we had to choose a more age-appropriate material. Plastic wiffle balls were the ideal size and weight for small hands so we had the kids throw them for all kinds of games.
Ring Toss
We were going to create a ring toss using upcycled products, but found this amazing giant inflatable ring toss and simply had to go with it!
Additionally, there were outdoor games for kids that didn't require anything more than a bit of kinetic energy.
For instance, the 40-yd dash and long jump were easy to measure off in the yard, and with it heating up, the girls chose to get wet during those two games!
What are your favorite outdoor games for kids?
Many thanks to Fruit Shoot® for sponsoring today's story and encouraging me to enjoy a family adventure!
Disclosure: Our Family Lifestyle is a participant in the Amazon Services LLC Associates Program, an affiliate advertising program designed to provide a means for sites to earn advertising fees by advertising and linking to amazon.com.
OUTDOOR FIELD DAY GAMES