---
When was the last time you were on a tiny island cruising through open waters? That is pretty much how I describe Royal Caribbean's Oasis of the Seas. This amazing 1,187 feet long ship has everything you need to enjoy a week long cruise… and then some.
Oasis of the Seas
The island comparison came after our stop in St. Thomas, U.S.V.I. The rep we had lunch with while there told us that the Oasis of the Seas carries more people on board than their smallest island of St. John.
That was a pretty incredible fact to think about. It was then that I realized just how amazing the ship really is.
Let me give you a few other quick facts to help you understand the size and capacity:
215 feet (65 meters) wide
213 feet (65 meters) high from the water line
16 guest decks
18 total decks
24 passenger elevators
2,706 total staterooms
6,360 guests total
2,394 crew (from over 71 countries)
Okay, now that we all can see how big the Oasis of the Seas is, let's discuss the countless number of things to do while on board!
That is, after all, the best part. You will not be bored or run out of things to do. Even if you just want a quiet walk in the park, you can actually do that aboard the Oasis!
That is awesome, right?
On Deck 8 you will find Central Park. A serene, green-filled deck with birds chirping and quaint eateries perfect for a midday snack or full meal.
If you are looking for a bit more action, you will certainly not find a lack of things to do.
From top to bottom, bow to stern, you will find an array of activities, clubs, restaurants, and more to keep everyone entertained.
We actually caught the Broadway musical, CATS on afternoon in the Opal Theater on Deck 4! It was an incredible performance and delightfully entertaining!
I never thought I would see a Broadway show aboard a cruise ship. In fact, Deck 4 offers a jazz club, comedy shows, dancing and more.
After catching a show, head to the Boardwalk on Deck 6. Take note of the artistically designed Carousel horses. Hand-crafted and hollow inside to work properly on a ship.
Then you might as well hop on the Carousel! We did and it was so much fun. I mean, how many people can say they rode a Carousel… at sea! Plus, the Boardwalk has much more to offer.
There is a Johnny Rockets, Hot Dogs, Ice Cream Parlor, Boardwalk Donut Shop, Sabor Restaurant and a large AquaTheater.
The AquaTheater has shows that include death-defying dives and belly flops. It's awesome! Make sure to catch at least one show while on board.
Not to mention, you can combine a show with adventure. You will find 2 rock climbing walls, zipline and 2 FlowRiders at the stern of the ship as well. A little adventure for everyone in group.
Or, if you are just looking to get wet and relax in a nice, calm pool, there is no shortage on board. The kids even have a nice play area designed especially for them so that the adults can lounge while looking on or join in the fun.
And one of my favorites, hot tubs! Everywhere.
This infinity hot tub near the Solarium is the best place to sit and watch the waters below go by and you sail across the sea.
After taking in all of the delicious food on board, you may want to take a nice walk on the track. My understanding is it is the longest track on sea.
All I know is that it is nice and breezy, has beautiful views, and keeps you motivated as you walk around.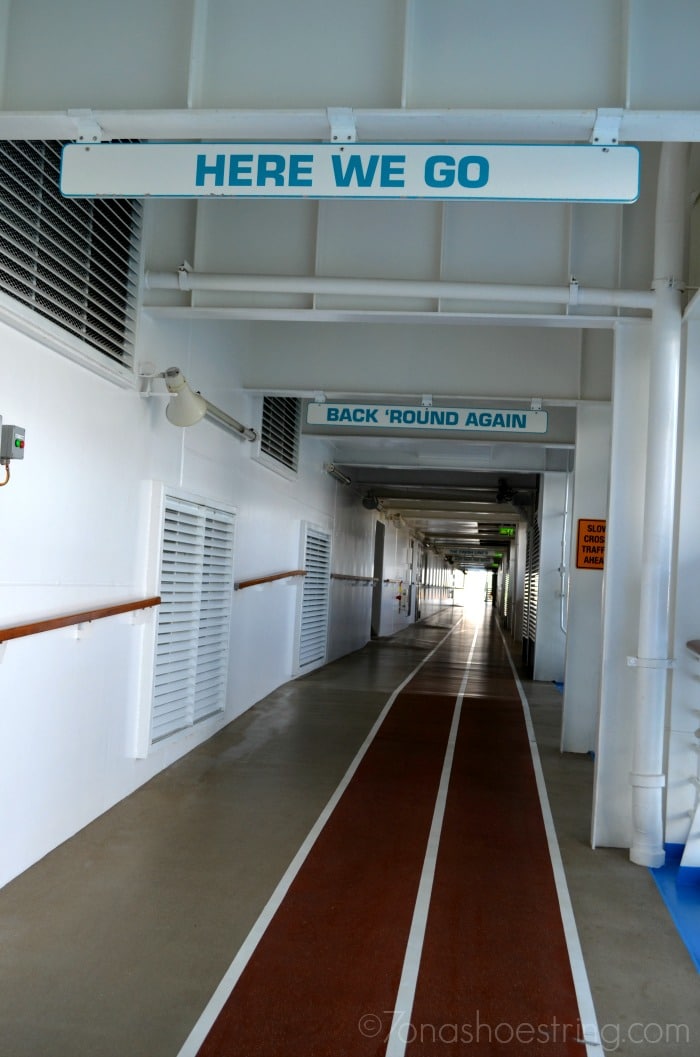 Finally, although this certainly doesn't include everything on board, you can do some shopping on the Promenade Deck. Handbags, watches, art, souvenirs and much more can be found as you peruse this area.
Be prepared to spend some time walking through it. Perhaps grab a cup of Starbucks Coffee at the end near the bow and make your way down towards the stern.
Whew. I think we only covered 5 of the 18 decks!
The Oasis of the Seas is an amazing ship with pools, clubs, theaters, restaurants, shopping, sports and so much more. The entire family can enjoy a trip across the open waters… or spend some time as a couple relaxing.
However you choose to cruise, Royal Caribbean's Oasis of the Sea can meet and exceed all of your expectations.
Where would you spend your time aboard the Oasis of the Seas?
Find out more about the Oasis of the Seas and other Royal Caribbean ships, as well as cruise destinations and dates, by liking Royal Caribbean on Facebook.