This site contains affiliate links. I may receive a commission for purchases made through these links. As an Amazon Associate I earn from qualifying purchases. [Learn more]
---
Are you a fan of Grey's Anatomy? My teenage daughter is a HUGE fan. When she heard that Colby and I would be walking through The Dream House on the set of Grey's Anatomy, I thought she was going to quit talking to us. It's not everyday that this opportunity comes up!
Grey's Anatomy
We were met outside the set by none other than Jessica Capshaw (Dr. Arizona Robbins). She gave us a quick rundown of how things would go, an overview of where we standing, and then led us directly into The Dream House. Those familiar with the show will recognize it as Meredith (Ellen Pompeo) and Derek's (Patrick Dempsey) home. I can personally attest to its beauty. Even as part of a Hollywood set, I would love to live there!
Walking into Derek and Meredith's house, you instantly feel the openness of the Grey's Anatomy house floor plan. Not only that, but you can tell a family lives there. The refrigerator is adorned with children's artwork, there are toys lying around the living room, and family pictures scattered throughout the rooms. I especially enjoyed the personal touches around the house. For instance, in the bedroom we found two great pieces. First was this:
And, then a small slip of paper that holds quite a bit of significance for Grey's Anatomy fans:
"There is no other day. Every day is like this. Every day is a crisis. I love you and I want to marry you today."
Due to their always hectic schedule, Derek writes down impromptu vows on a Post-It note and signs it. The "Meredith and Derek Post It" was instantly iconic to the show and its fans.
Derek proposes to Meredith and she asks, "This is our wedding? A Post-it?" She also signs it and the two of them kiss. That was it. Man and wife. That note now lives above their bed in The Dream House on Grey's Anatomy.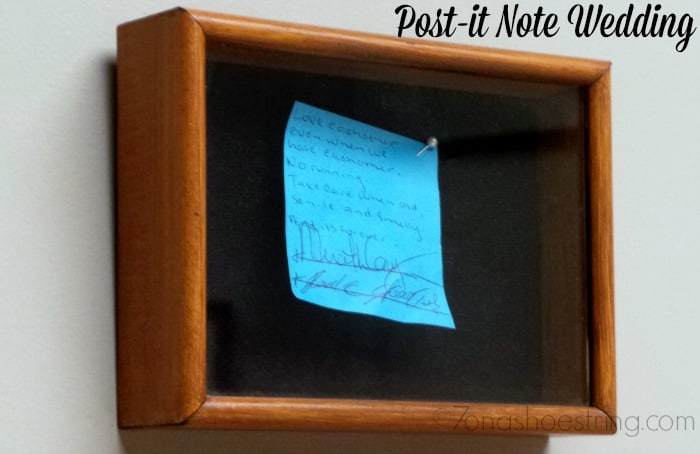 But Meredith and Derek's house was not the only set we were able to get a look at. We also walked the halls of Seattle's Grey Sloan Memorial Hospital. We stood on the very stairs that are often seen in the climatic scenes and where diagnoses are often delivered.
We were also introduced to the Props Master, Angela Whiting and Costume Designer,  Mimi Melgaard. Both gave us terrific insight into their jobs behind-the-scenes and how much fun they have with the tasks at hand. I loved the story about how the original inspiration behind the series came from a Visible Woman doll. That's right! A doll! It is always interesting to hear how these shows and movies began.
There were prop bags from characters both past and present. A beating heart. "Real" theatrical blood. And photographs that the actors themselves had brought in to use as props.
Plus, Angela shared a few of the costumes worn by actors in the past. She also told us about how she coordinates clothing styles with personalities and thoroughly enjoys her job as she shops. Not to mention, we were each given a signed scrub shirt straight from the set (which I generously gave to my daughter)!
Finally, we sat and talked more with Jessica Capshaw, as well as Sarah Drew (Dr. April Kepner). And had a surprise visit from both Justin Chambers (Dr. Alex Karev) and Camilla Luddington (Dr. Jo Wilson).
There was so much to see and I tried to sit back and take in as much as possible. Everyone was incredible and super excited about sitting and talking with us. We had a great time and I can't wait to see more of the current season!
Who is your favorite character on Grey's Anatomy?
Watch Grey's Anatomy on Thursday nights at 9pm ET on ABC Television Network.
ON THE SET OF black-ish