---
I dare say when most of us walk into a theater to watch a movie, we do JUST that. Watch the movie. The average movie watcher probably doesn't put too much thought into what goes on behind-the-scenes. Especially when it comes to animation. Disney Pixar's Inside Out is one of those films that took over 5 years in production and a large team to develop.
Riley Cam vs. Mind Cam
As I have mentioned before, Inside Out is a combination of two different worlds: mind world vs. real world. This meant that there was plenty of work put into distinguishing these two, very different, worlds within the film. Not only are there real world characters to animate and develop, but the characters inside Riley's mind also existed in a complex world inside the mind.
Whereas the typical progression of a film is "Lights! Camera! Action!", a computer animated film moves a bit differently. Same components, different order. This time you will see, "Camera! Action! Lights!" The Director of Photography Patrick Lin explained that the obvious need for Inside Out was for an audience to be able to distinguish between the more real world and the world inside Riley's mind. Based on the progression above, this begins with the camera.
Even with virtual cameras, there are various lens options and focusing abilities, as well as lens distortion and depth of field. They can even fully mimic the movement that comes from a physical camera. Basically, they can recreate everything found in the physical world with their virtual cameras. The Camera Staging Department then begins with Staging, choreographing the camera and subjects, as well as framing to determine how each character will move through the scene. In fact, they begin with an empty scene before animation even begins.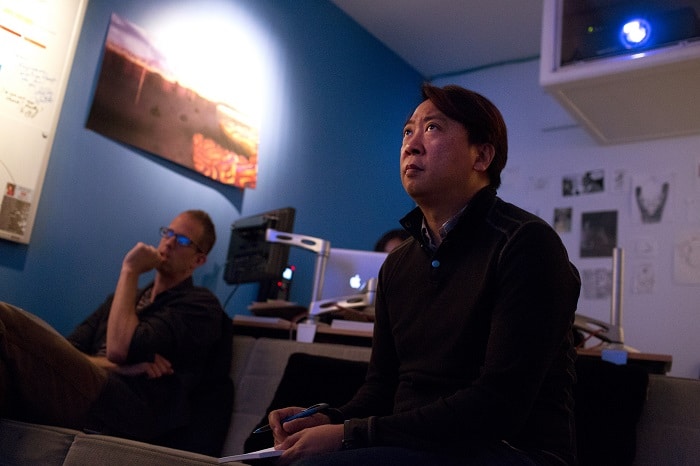 Speaking of the camera, Camera Movement has the largest impact on the Visual Language of the film. With two vastly different worlds in Inside Out, they needed two vastly different types of camera movement:
Riley Cam: mechanical camera movement equivalent to using a dolly or crane for controlled movement
Mind Cam: organic camera movement similar to a steady cam or handheld camera so that the movement is less rigid
It all has to come together in a perfect combination in order to achieve the amazing look you see in Inside Out!
Meet Joy
In addition to the camera, there is also the aspect of Lighting we mentioned in the progression. Have you seen Joy in the trailers? Notice that incredible glow around her? The Lighting Team, including Lighting Artist Angelique Reisch, had a pretty ambitious task in front of them as they worked to create this ambiance around her. As the animators work to move the characters around, the Lighting Team helps to reinforce the story point through lighting.
Using 5 Principals of Lighting they help to create visually appealing images to support the story:
Direct the Viewers Eye: use light to draw the viewer's eye to the intended story point
Create Depth: direct audience to focal point of shot using lighting and staging techniques
Enhance Mood, Atmosphere, and Drama: set overall mood of the shot through light intensities, colors, and values
Convey Time of Day: critical fundamental as it indicates both mood and atmosphere
Reveal Character Personality and Situation: use light position, contrast level and color to highlight a characters intent in a scene
Lighting Joy was the greatest challenge as she was seen as the light source for the "Mind cam" in Inside Out. In fact, the team built a group of lights, Joy's light ray, that is used in every shot of the film. Joy's light needed to be both animated and believable.
Using the newest technology, Geometric Area Light by Renderman, the Light Team was able to achieve the glowing effect they wanted for Joy. Her light can be seen casting light on the other characters, props and throughout the set as she walks through each scene.
Learning how each and every detail plays a part in both worlds of Pixar's Inside Out only makes me appreciate each scene even more. Hopefully as you watch, you too will be more in tune with the characters and scenes played out in front of you. It truly makes it a more incredible experience for me.
See for yourself when Disney Pixar's Inside Out shines in your local theater beginning June 19th!