---
Tinker Bell and her fairy friends have forever held a special place in my heart. Reading about the adventures of Peter Pan and his Lost Boys in Neverland is such a fun memory for me growing up. In the latest fairy movie, we not only find Tinker Bell, and a cameo by Periwinkle, but we are introduced to Zarina, The Pirate Fairy.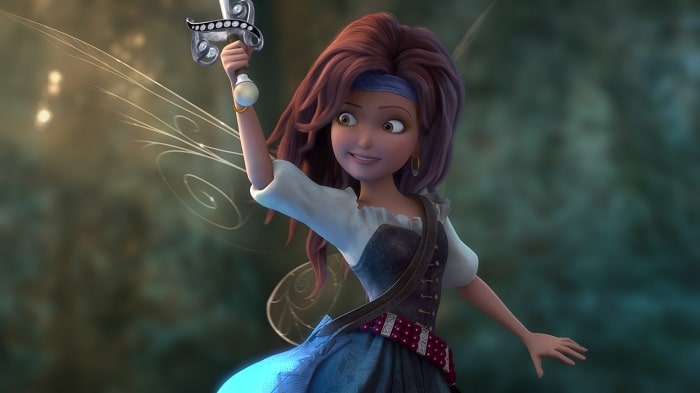 The Pirate Fairy
I gotta tell ya, after listening to Director Peggy Holmes talk about Sister of the Wings, I knew that we were in for a treat with The Pirate Fairy. Her energy and passion for the movies she directs are apparent and shown through her films. The moment she walked in the room with Producer Jenni Magee-Cook, we all became more lively and were pumped about watching the movie. You simply cannot help but get excited when you hear them talk about their movie.
It is always interesting to learn what the filmmakers process was as they worked on developing a movie. In the case of The Pirate Fairy, Peggy mentioned that they knew they wanted Zarina to make a mistake and then run away from home. Plus, they wanted redemption for her so that she could somehow come back to Pixie Hollow. After all, "that is what Tinker Bell is all about." She, of all the fairies, understands that, right? Making mistakes and owning up to them. Besides, we know from Peter Pan that Tink is super loyal and has a huge heart.
Therefore, as they sat in a 2-hour creative meeting brainstorming ideas, the other directors and writers were building the story together. Where was Zarina going to run away to? What was going to happen? What was her mistake going to be? And then all of a sudden, John Lasseter pounds his fist on the table (signaling that something big is coming) and says, "Pirates! She could run away and get hooked up with pirates… the pirates of Neverland."
Brilliant, right?! It ties the whole band of fairies and Peter Pan together. And as soon as he started the ball rolling, ideas came forth form everyone and the story began to unfold. A young Captain Hook. The birth of the infamous "Tick-Tock Croc." And with the idea coming straight from Mr. Lasseter himself, they had all the approval they needed to get going. They knew they had a responsibility in maintaining the integrity of Peter Pan's story, but their creative team accepted the challenge and successfully pulled it off.
In fact, they worked so well together… and had such a clear idea of where they were going with it… that they finished the film in 15 months. Of course, Peggy also wanted to minimize the amount of gray hairs she wanted to 2, so that helped speed things along. *wink*
Behind-the-Scene Facts
Look closely at Zarina's costume, her sword is a hatpin and her belt is a watchband
This is the first time one of the fairies' costumes was created from man-made material
The sound of the clock "tick-tocking" was pulled from the original Peter Pan archives and reused the actual sounds in mixing
Peggy's son's initials are found on the clock as the clock-maker
Her daughter's name is under the cigar box where Zarina filters the blue pixie dust
Hired a pirate consultant, Peter Twist (same consultant on Pirates of the Caribbean), to learn about hierarchy of the ship, proper pirate language, and code of ethics
Sent art director and stereographer out to see on a ship with a 3-D camera to get pictures from a "fairy's angle" to figure out ropes and riggings for scenes
Tom Hiddleston was their 1st choice for James and performs his own singing in the movie as well
We also found it amusing that when Tom Hiddleston came in to record a video about the film, he was wearing a well-starched white shirt. Although he looked great for the camera, his stiff shirt made a brushing noise with every movement he made. The mic picked up every sound so they had to hand him a DisneyToon shirt to finish the recording. I love learning things like this about movies!
Learn more about the April 1st release of The Pirate Fairy Blu-Ray Combo Pack by liking Disney Fairies on Facebook and following the #PirateFairy hashtag on Twitter.