Disclosure: This post was sponsored by Starbucks as part of an Influencer Activation for Influence Central. I received compensation and complimentary products to facilitate my review.
---
Winter would simply not be the same without the tasty goodness of hot chocolate. It's been a cold-weather classic for me since childhood. Of course, as I have transitioned into adulthood, my love for the cocoa drink hasn't changed, but I have found new creative ways to drink hot chocolate. Additionally, Starbucks® Hot Cocoa K-Cup® pods make it super easy to enjoy the creamy chocolate drink at home!
Ways to Drink Hot Chocolate
Starbucks® Hot Cocoa K-Cup® pods were created especially for your personal recipe for relaxation. Each mug of hot chocolate is made with real cocoa and non-fat milk and as close as the push of a button. The Starbucks® Hot Cocoa K-Cup® pods come in two decadent flavors: Classic and Salted Caramel. The new Salted Caramel Hot Cocoa K-Cup® pods combine a "pinch of sea salt and a dash of natural caramel flavor" to create the perfect sweet-and-salty sensation.
Now, when it comes to crafting the perfect cup of hot chocolate at home, you only need your favorite mug, a Starbucks® Hot Cocoa K-Cup® pod and your Keurig®. Dressing up your cup of cocoa is completely optional, but can definitely yield some tasty results! Here are just five creative ways to drink hot chocolate at home:
Classic Hot Cocoa with Marshmallows — Nothing more classic, right? Brew your choice of hot cocoa and then simply add marshmallows. Nothing fancy. Just a cup of hot chocolate to warm your insides and relax your body.
Nutella Hot Chocolate — An easy way to add a taste of hazelnut to your mug is to mix 2 tbsp of Nutella into your hot cocoa. The warm liquid will melt the spread as you stir and will leave you with a deliciously creamy drink.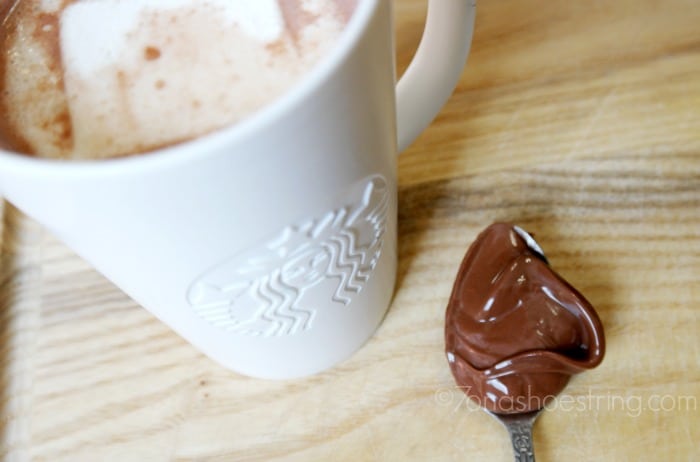 Peppermint Hot Chocolate — A ½ teaspoon of peppermint extract and a few chocolate shavings can make for a minty burst of flavor!
Mexican Hot Chocolate — Add some bold spice to your next mug of cocoa with ½ teaspoon and a pinch of cayenne pepper. Use a dried cinnamon stick as a stirrer and serve!
Peanut Butter Hot Chocolate — Just 1 tablespoon of peanut butter can add a whole new element of fun and flavor to your mug! Top with chopped salted peanuts for an added crunch!
These 5 simple ways to drink hot chocolate prove that treating yourself doesn't have to be challenging. In fact, you owe it to yourself to take a break now and then. Brew a cup of Starbucks® Hot Cocoa K-Cup® pods, add a teaspoon of this or that, cuddle up with the Starbucks Cozy Collection and enjoy the time you have!
In fact, Starbucks is giving you the opportunity to get really cozy with your next cup of hot cocoa! Through February 26th, you can enter to win your very own Cozy Collection, which includes:
a blanket
Starbucks® mug
Madyson's marshmallows
shortbreads
Starbucks® Classic and Salted Caramel K-Cup® Pods
---
PEPPERMINT HOT CHOCOLATE:
Disclosure: Our Family Lifestyle is a participant in the Amazon Services LLC Associates Program, an affiliate advertising program designed to provide a means for sites to earn advertising fees by advertising and linking to amazon.com.