How do you often spend your time relaxing at home? Do you often find yourself relaxing with a warm cup of coffee? Gold Peak Coffee introduced me to their blends which were previously named Georgia Coffee. Now available in new markets, there are more opportunities to grab a cup near you.
Gold Peak Coffee
I typically have a warm of cup of coffee each night as I work. It relaxes me and allows me to stay focused and enjoy the bit of silence. Combining my passion for writing with my love for the rich taste of coffee helps me to rid myself of work stress and simply… be. Even when I am not at home, a nice cup of coffee can bring me back to that point of relaxation.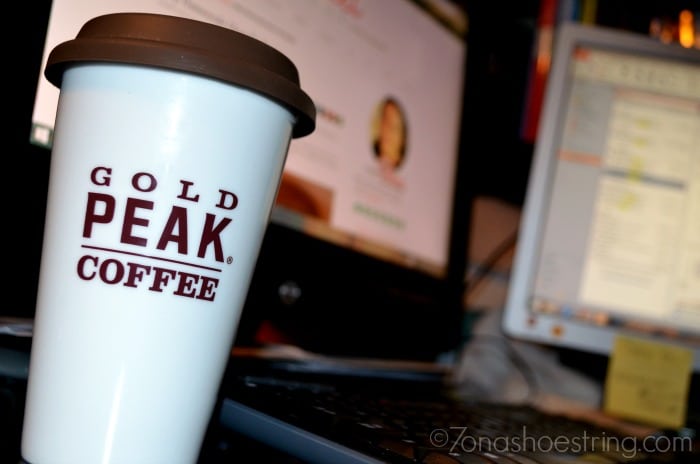 Additionally, here are a few more tips for relaxing while working from home.
Find your happy place. Wherever that may be. Find it. For me, it really is in a cup of coffee. The memories of drinking it makes my heart full. Plus, the warm feeling inside keeps me connected to the comforts I find only at home. 
Take a deep breath. Most of us really don't breathe as deeply as we should. So just stop. Take a few deep breaths. Really concentrate on every breath and notice how your body feels with each rise of your chest. Let it out and take another.
Listen to music. Focus on the words, instruments, melody. Let the music carry your thoughts and simply focus on the task at hand. Whatever genre of music you find works for you is the only way to go.
Take a break. It really is okay to simply walk away for a bit. Have a cup of Gold Peak Coffee with friends. Go on a drive or long walk. Read. Exercise at the gym or in your home. Stepping away from the stress for a while can be the best therapy in the moment.
Soak in the tub. Fill the tub with warm water, and scented oils if you like, and then slide in for a while. A quick 10-20 minute soak in the tub can be just enough to refresh your mind and restore energy so you can go on with your day.
Now, even when I am away from home and need to find that "happy place" I can do so with a cup of Gold Peak Coffee. It brings me back to these moments.
These comforts of home I find when I need to relax and just enjoy the moment. The sensory sensations of every facet of my experience can be found in a cup of coffee to bring me right back to my home.
What evoke the comforts of home in you when you are away?
Try a cup of Gold Peak Coffee when you get the opportunity and discover the aromatic taste that brings you back to the comforts of home.
---
Disclosure: This is a sponsored post written by me on behalf Gold Peak Coffee. All opinions and commentary are my own.