We have entered our 14th year of homeschooling this year and still absolutely love taking this educational journey with our kids.
This post may contain affiliate links, which means I'll receive a commission if you purchase through my links, at no extra cost to you. We are a participant in the Amazon Services LLC Associates Program, an affiliate advertising program designed to provide a means for us to earn fees by linking to Amazon.com and affiliated sites. [Learn more]
This year we have three at home using the upstairs game room area as their schoolroom.
We spent a couple of weeks over the summer transforming it into the perfect tween study space for them and it turned out great!
Tween Study Space
Over the years we have discovered that it helps them to have a defined study space.
A place where they can work on their studies that is separate from where they sleep or we all eat together.
Believe me, we started out all sitting around the kitchen table together, but that just did not work well for us.
Each one of the kids learn using different methods and they all have different study habits.
Therefore, giving them a dedicated tween study space allows them to get the schoolwork done in one area of the house and feel as though they can "leave" school once it's finished.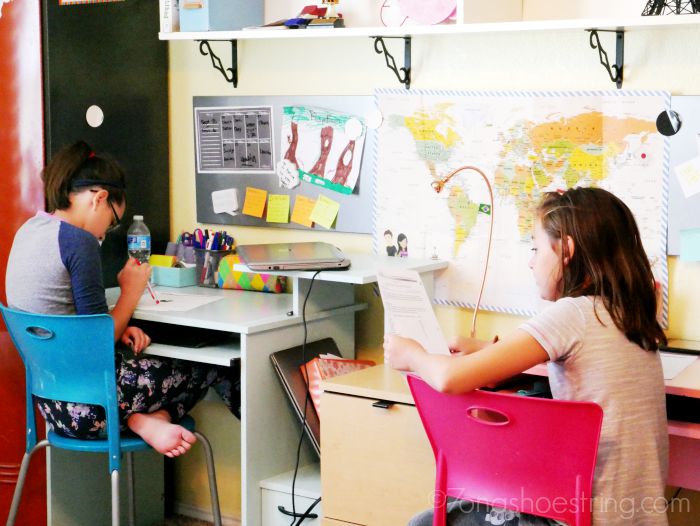 Using these six tips for creating a tween study space, the girls love having their own scholastic spot.
Plan well
In order to make the most efficient use of your study space, take a good look at the area you will be utilizing.
The overall size of the area will be a big factor in the type of furniture and accessories you will need.
Plus, take note of any lighting, storage, or electric needs that may be necessary.
Fill the space
Perhaps the most important part of any study space is the furniture — or lack of it.
If using a work surface, will you choose a desk or a simple tabletop? Find a desk (or table) that is ergonomically comfortable for the person that will be using it.
Being able to rest your elbows on the table without hunching over and having your feet flat on the ground helps provide the support your body needs while working. Equally important is a comfy chair.
Stock with basics
Speaking of the materials, keep study basics and supplies nearby.
Based on the student's individual needs, ensure there are plenty of pens, paper, notecards, highlighters, and whatever they may need close by so as to not hinder their time studying.
Additionally, keep a dictionary and thesaurus on hand, as well as Big Fat Notebooks. This series is built on a simple and irresistible conceit—borrowing the notes from the smartest kid in class.
Big Fat Notebooks produces study guides for a variety of subjects, including math, science, and history. Their study guides are designed to help students improve their grades and score well on exams.
There are a number of books in the series, and each is the only book you need for the main subjects taught in middle school:
As well as high school:
Big Fat Notebooks' study guides are concise and to-the-point, with clear explanations of concepts.
They also include practice questions and answer keys, so students can test their knowledge.
Whether you're struggling in school or just looking to boost your grades, Big Fat Notebooks' study guides can help you reach your goals.
Full of homework helpers and a wealth of information, they add another element of learning to any study space.
Brighten it up
Sure, you can add pops of color to give the space a fun, trendy look, but I'm talking about lights. A desk lamp or nearby overhead light is essential to keeping eye strain a minimum.
A dark area will not only make it an ideal nap space but will also put a damper on learning once the eyes tire of trying to see the materials.
Keep organized
All of those supplies and books need somewhere to go when not in use. A metallic board can display study notes and reminders, while a desk caddy holds pens, pencils, scissors, and more.
A filing cabinet, small bins, or even a locker can help keep things neatly stored or put away for later use.
The key here is making the most out of the space you have to use, in addition to staying organized and using that time for studying.
Personalize it
Finally, if possible, let each student make the space their own. Add elements that won't distract them from learning, but will let them feel as though it was created for them.
A picture frame displaying a happy moment or a small statue of the Eiffel Tower can motivate and inspire them to want to be in the space and get their work done.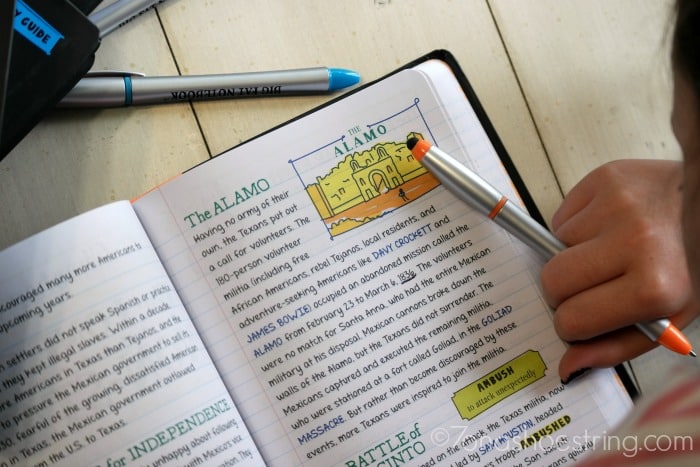 Remember, the main purpose of the tween study space is to help them be more effective in their study time. The ideal space doesn't exactly have to be the "perfect" space.
As long as you cover the essentials and create a comfortable learning environment, there should be no excuse for not getting the educational work done.
Bonus study tip from Big Fat Notebooks:
Big Fat Notebooks can be found at Amazon, Barnes & Noble, Indiebound, and Workman.