---
Traveling to Oregon's Mt. Hood Territory? If you want to experience a truly rustic feel during your stay, we have just the place for you. Deep in the forested woods of the mountain, you will find the Sycamore Lodge available through All Season Vacation Rentals.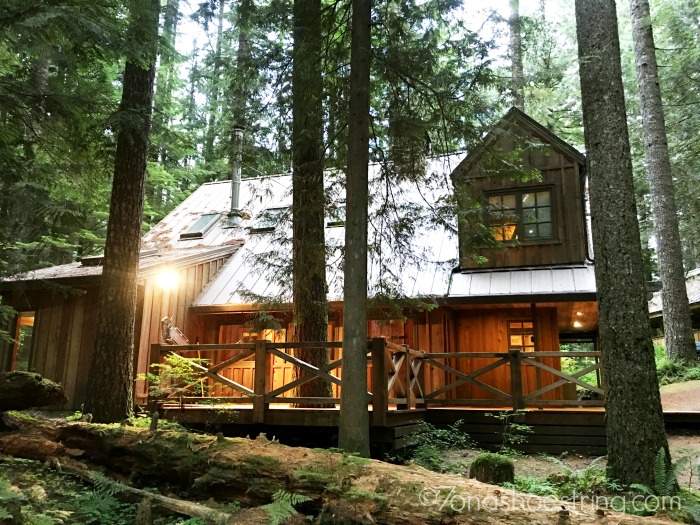 Sycamore Lodge
Unplug and reconnect as you travel into the woods towards Sycamore Lodge. The long tree-lined path leading to the lodge only builds anticipation. Once you turn into the driveway and set your eyes on the almost 3000 sq ft mountain home, you feel fully immersed into the trees around you. Tranquility is just a step inside the solid wood home.
A long window of walls welcomes guests with a place to take off your shoes, hang your coat, and begin the process of relaxing. The hall opens into a large open space with 25 foot ceilings and plenty of rustic decor. The couch, dining table, beds and shelves all perfectly blend with the wooden logs that make the house. If you're looking for the ideal country getaway, the Sycamore Lodge is exactly the home away from home for you.
Take a look at the features inside:
sleeps 10 with 3 separate bedrooms; separate hallway nook with twin; futon on third floor; 2 loft beds in one of the upstairs bedroom that are accessible only by a rocking climbing wall; second guest bedroom has bunk beds with a full and a twin mattress
two full baths; downstairs includes a river rock shower with a custom designed iron tree that holds a European sink and faucet; upstairs bath features a 60′ copper bathtub
fully-stocked chef's kitchen with stainless steel appliances
washer and dryer in separate utility room
two sitting areas
plasma TV, DVD player with over 100 movies, games, books, toys, cards and more to keep everyone entertained
Plus, free wireless internet
Of course, don't forget the outdoor entertaining space! In addition to a hot tub on the back deck, there is a large outdoor fire pit with Adirondack chairs for roasting marshmallows or just staring at the stars. The upstairs balcony also holds a table and chairs for enjoying a cup of coffee and watching the local wildlife.
Perhaps the one thing the girls' miss the most about being outside the Lodge is the beautiful rope swing. Hanging from high above the ground, you feel as though you're gliding on air as you swing back and forth.
Anytime we were at the mountain home and the weather was nice, the girls were outside on the swing. If nothing else, it created an incredible bond between the three of them. One that worth every minute of our road trip to Mt. Hood Territory. We can't wait to go back!