---
You know the old adage, "opposites attract?" Well, with Colby and I, it couldn't be more true. From the way we were raised to the way we think to the foods we enjoy. We're very different, yet still perfectly made for each other.
Mostly anyways.
Our five children are, in some instances, a delicate blend of both of us. And in other ways, especially when it comes to food, tend to lean more towards one direction or the other.
I'll start with my team of tasters first because, well, naturally I believe we're the best.
Basil Pesto
Although I enjoy the taste of a good heirloom marinara sauce, I prefer the fresh punch of flavor from a zesty basil pesto. Colby and his food followers in the house don't prefer the earthy flavor.
Which is fine. It's all about the taste buds, I guess.
Colby—and those that sit on his end of the table—desire the more creamy texture and fresh tomato flavor of marina.
Quite literally one of those tomayto, tomahto situations.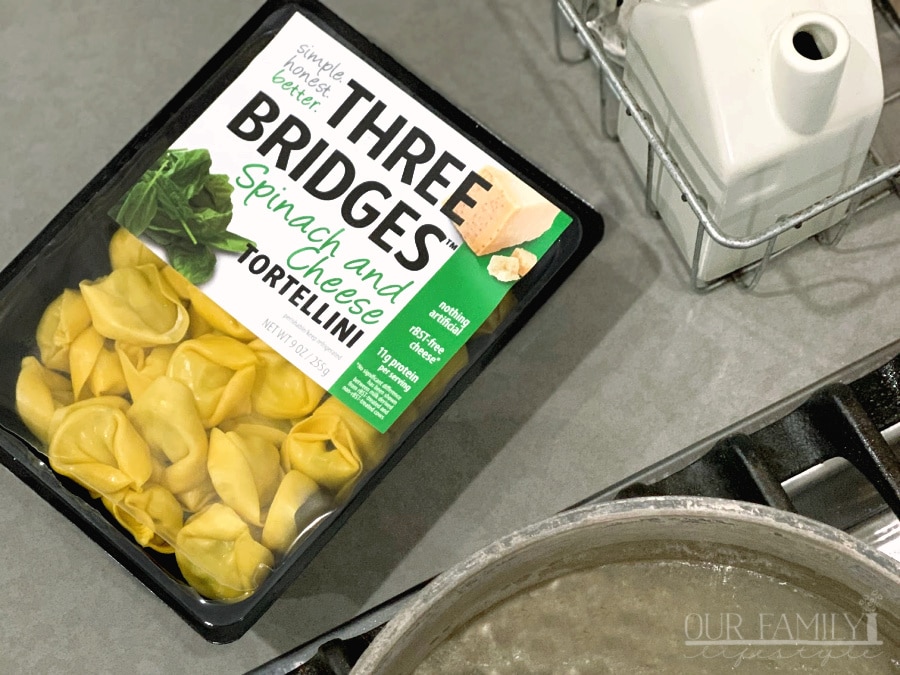 Fortunately for us all, Three Bridges makes it easy for all of us!
With Three Bridges, their first priority is healthful and honest meal solutions. The fact that they are able to offer natural ingredients in family-size portions is simply a bonus!
Not to mention, there's no need to freeze Three Bridges' pastas, so you can grab the pasta from the refrigerator and cook your family a meal without right away. 
At the same time, you can rest assured everyone will stay fuller longer thanks to the high protein value of the meal.
Three Bridges has truly thought of everything when it comes to family meal prep!
For our recent family pasta cook-off, my bold-flavored pesto team decided to pair Three Bridges Spinach and Cheese Tortellini with Basil Pesto. 
Colby and Team Tomato chose the Crispy Grilled Chicken & Mozzarella Ravioli with Heirloom Marinara recipe. 
We found this easy recipe on the Three Bridges website and decided to add the spinach aspect in order to capture an ideal pairing for this occasion.
Notice the total cooking time on that recipe? 9 minutes!
Three Bridges has not only made clean eating easy, but convenient and efficient as well! For a family that often struggles to decide on dinner ideas until the last minute, this is a must.
Yes, you would think that our family meals would be perfectly planned out and our pantry full of ideas. But, that goes back to our differences in thinking. 
I am a planner; Colby is not. 
Colby is a shopper, I am not. 
Therefore, since he does the shopping, and doesn't always discuss his grocery list with me first, the planning portion of our family meals is often skipped. 
Can I tell you how often we go to the kitchen ready to prepare the family dinner and realize that we're missing key ingredients? Y'all. It happens every week.
Now, with Three Bridges, if you have a package of pasta and another of sauce, you have all you need for a delicious meal.
Join our pasta showdown and let us know which flavor pairing is your favorite here.