Y'all, I would not be lying to you if I told you we had two Root Beer Float Cupcakes recipe fails simply trying to create a delicious cupcake for this post.
This post may contain affiliate links, which means I'll receive a commission if you purchase through my links, at no extra cost to you. We are a participant in the Amazon Services LLC Associates Program, an affiliate advertising program designed to provide a means for us to earn fees by linking to Amazon.com and affiliated sites. [Learn more]
Needless to say, baking is not exactly one of my strong suits.
But, once we developed the recipe, it turned out delicious thanks to Perfect Bake®.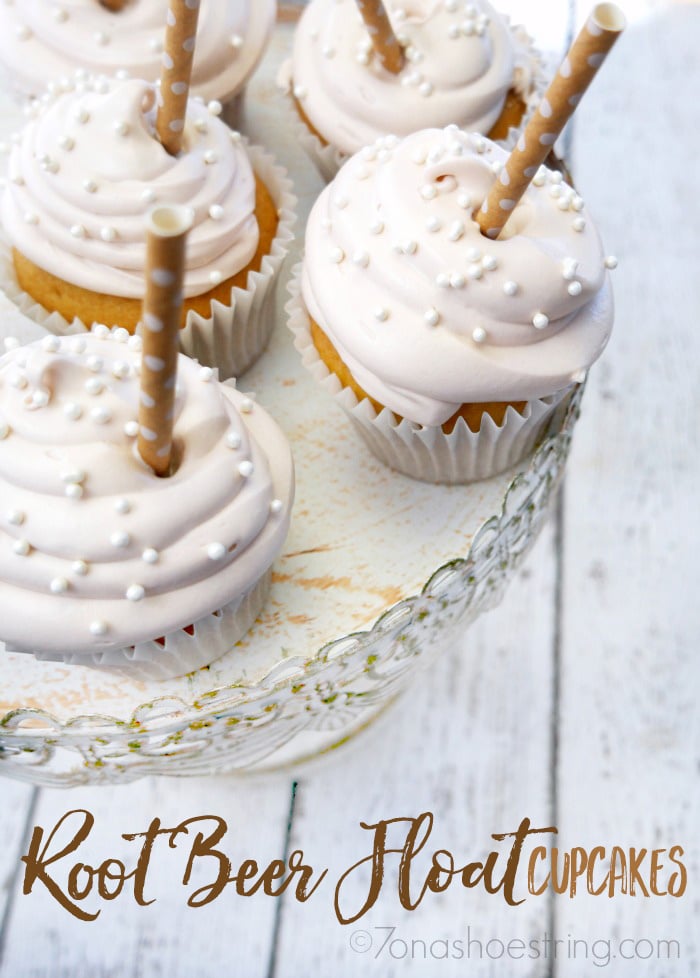 Root Beer Float Cupcakes
Perfect Bake® is a patented app-controlled smart baking system that turns anyone into a master pastry chef, guaranteeing perfectly delicious results every time. And, it can do all of this based on what you can find in your pantry.
Through the innovative app (available for free on both iOS and Android), you can add the ingredients you have on hand and the app will tell you which recipes you can make.
So, if you have guests coming over in an hour, find an ideal recipe to fit your needs based on ingredients in your Virtual Pantry.
Become a master chef with Perfect Bake:
The App – With the Perfect Bake app, you can choose from hundreds of pastry recipes, as well as add your own.
Choose from categories that include cakes, cookies and ice cream, in addition to gluten-free, sugar-free and vegan options.
Then, simply follow the color-coded blocks to through the entire process for a perfect pastry every time.
The Scale – Using color-coded bowls to streamline the recipe process, the app guides you through each step. Place the bowl on the scale and pour as directed.
After scaling your recipe to the exact number of goodies you want to make, the app will properly adjust the recipe. Then, the scale will advise you when to pour and how much of each ingredient.
Ready to pour your delicious root beer float cupcakes mixture into the cupcake pan?
Simply place the pan on the scale and pour the batter. The portion meter will tell you when to stop pouring for the perfect root beer cupcakes with root beer extract.
The Extras – Basically, you get several features in these two pieces combined.
Working together, not only do you have the Virtual Pantry, step-by-step cookbook, and on-point scale measurements, but there are also three different timers for mixing, baking, and cooling (which can run concurrently).
Oh, and don't forget the Oven Thermometer and tablet/phone stand.
Everything you need to create the best-tasting dish every time. You'll want to try even more delicious summer cupcake flavors right away!
Using the Perfect Bake system, we truly came out looking like master chefs with our easy Root Beer Float Cupcakes recipe.
The entire house smelled like old-fashioned root beer and the taste was absolutely divine! Completely from scratch, the measurements were exact, and it was easy to make when it was all said and done!
Now to find more recipes using root beer extract!
How to make Root Beer Float Cupcakes:
Root Beer Float Cupcakes
Root Beer flavored cupcake topped with root beer fluff perfect for satisfying any sweet tooth.
Ingredients
Cupcakes:
2 1/2 cup flour
2 1/2 tsp baking powder
3/4 cup softened butter
1 1/2 cup sugar
3 eggs
1/2 tsp Vanilla Extract
1 cup Root Beer
Frosting:
3 cups confectioners' sugar
3/4 cup unsalted butter, softened
3 tbsp Root Beer
1 1/2 tsp Root Beer Extract
Instructions
Preheat oven to 350°F. Line cupcake pan with liners.
Stir flour and baking powder together and set aside.
Cream butter and sugar until fluffy. Add eggs, root beer extract and vanilla extract.
Slowly add flour and root beer until blended well.
Fill cupcake liners about 2/3 full and bake for 15-20 minutes, or until inserted toothpick comes out clean. Cool before icing.
Frosting instructions:
Whip butter, root beer extract and vanilla extract until fluffy.
Slowly add confectioners' sugar.
Pour in root beer gradually to desired consistency.
Top each cupcake and garnish with cherry, paper straw, sprinkles or other toppings.
Recommended Products
As an Amazon Associate and member of other affiliate programs, I earn from qualifying purchases.