---
What is your morning breakfast battle? Do you find yourself losing energy throughout the morning as your breakfast wears off? Perhaps you are not eating the proper amount of protein to start your day.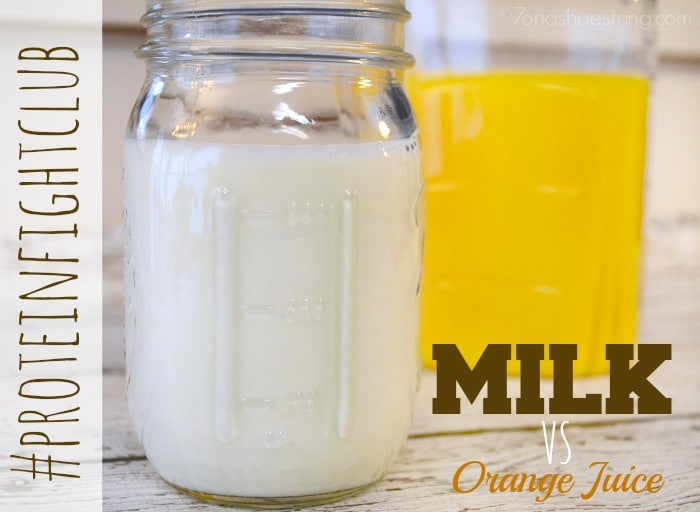 Protein Fight Club
An 8 oz. glass of milk has 8 grams of high-quality protein. Therefore, one glass of milk will give you more protein than 1 egg or even 3 slices of bacon. Oh, and when you reach for a glass of orange juice, you are only getting 2 grams of protein. Not exactly enough to energize your day when you can get a full 8 grams from one single glass of milk.
In fact, milk is a "breakfast powerhouse" with 9 essential nutrients that your body needs throughout the day. The nutrients found in milk are calcium, potassium, phosphorus, protein, vitamin A, vitamin D, vitamin B12, riboflavin, and niacin. Each of these essential nutrients are a key ingredient of milk, and they all work together to help keep our bodies healthy.
Milk vs Orange Juice
I think my biggest battle has always been the Milk vs Orange Juice battle. I tend to grab the orange juice simply because it has been habit for me. I tend to let me drinks sit too long while I eat and only like my milk ice cold. I never thought fully about the protein or other nutrients I was missing out on. Luckily, the Milk Mustache campaign has opened my eyes to those facts and many more.
Since changing  to a glass of milk, along with protein-packed recipes such as the 90 Second Scrambled Eggs, I find that I have much more energy through the day. I am no longer ready to crash 2 hours after I begin. And, by setting an alarm to remind me to eat (due to hypoglycemia), I am not crashing from low blood sugar. The energy and nutrients have helped me to further maintain my blood sugar levels and stay focused on the task at hand. Not bad for a simple lifestyle change.
What is your Protein Fight Club Battle?
Are you battling with orange juice as I was? Is it sausage or a breakfast bagel? The Milk Mustache Campaign has out together a fun collection of Protein Fight Club Battle videos to help you see the light too.
Stay tuned throughout the month to learn more about how making milk a part of your morning can improve your health. Plus, find out more about the benefits of milk by liking Milk Mustache on Facebook or by following @MilkMustache on Twitter.
---