Disclosure: This post is sponsored by Target.
---
November is here and I can already smell the turkey in the oven. Oh, but don't forget about the juicy ham, cranberry sauce, delicious pies, and all those sides!
Potato Side Dishes
After eating the first helping, the side dishes typically become the only foods I need for the next round. They are easily my favorite part of Thanksgiving dinner.
Around here, we are definitely "meat and potatoes" type of people. The potato side dishes are often hard to turn down. They all look and smell so good!
Fortunately, after a recent Target run for more essentials, I picked up 4 basic ingredients that were versatile enough to create two very different potato sides.
The spice aisle was the main source of our inspiration. There were so many varieties to choose from!
I had a recipe idea in mind for the Rosemary Roasted Sweet Potatoes so started there. Archer Farms offers a great selection of condiments, oils and spices, in addition to many other items.
For my Thanksgiving side dishes, I decided the Archer Farms Rosemary, Garlic Powder, and Mediterranean Sea Salt would work best.
Each spice brings a bold flavor to any meal and I wanted big tastes for my sides. After all, Thanksgiving means family and I want to ensure they love what is served.
Olive oil was a necessary ingredient in both recipes, but I was able to change just one element — the potatoes — and change the entire dish.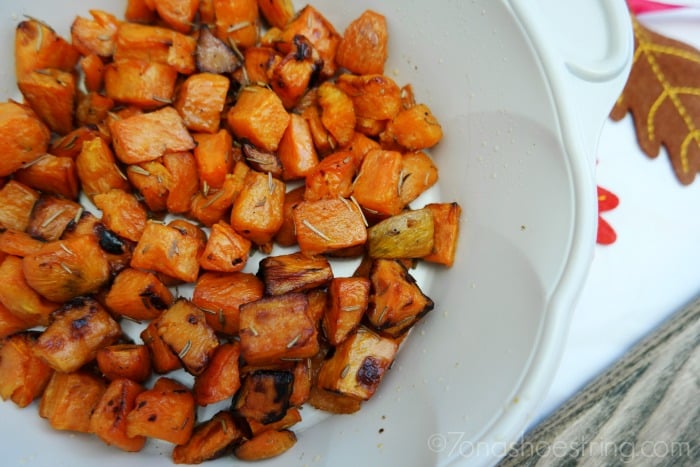 First, I found the Archer Farms Roasted Sweet Potato Chunks in the freezer aisle. I could not wait to try them oven-roasted with the spices I already had in my basket.
Plus, it was a simple recipe using the frozen vegetables and perfect for carrying to Thanksgiving dinner.
Next, a bag of Small Red Potatoes were exactly what I needed to change the second side dish up a bit.
Another easy recipe that would only require 5 ingredients and little effort. Boil the potatoes in water and sea salt. Gently smash each potato, then brush an olive oil-rosemary mixture over and bake. Done. And they are delicious!
Oh, and the wooden serving paddle (from Target) was an excellent addition to our Thanksgiving table!
In fact, you can grab everything you need at Target to make your Thanksgiving dinner perfect! Not only did we come home with all the ingredients for our side dishes, but we also found tableware and more.
You can even purchase a Butterball turkey for .99₵/lb!
Target truly has everything you need for your Thanksgiving table.
What's on your #TargetRun?
Rosemary Roasted Sweet Potatoes
Each spice brings a bold flavor to these Rosemary Roasted Sweet Potatoes and adds big tastes to your sides.
Ingredients
1/2 cup olive oil
1 tbsp Archer Farms Rosemary
Archer Farms Roasted Sweet Potato Chunks
1 tsp Archer Farms Mediterranean Sea Salt
1/2 tsp Archer Farms Garlic Powder
Instructions
Add olive oil and rosemary to a skillet on medium heat.
Rinse Sweet Potato Chunks and dry. Place into skillet and cook to absorb rosemary and oil. Sprinkle garlic and sea salt over, to taste.
Pour sweet potato mixture into a casserole bowl and place in oven.
Bake for 20 minutes at 375°F. Stir potatoes and bake for another 5-7 minutes until browned.
Serve warm.
Recommended Products
As an Amazon Associate and member of other affiliate programs, I earn from qualifying purchases.
The Smashed Potatoes recipe was adapted from Target Recipes.
*This post was first published on November 15, 2015