Disclosure: This post is sponsored by The Home Depot.
---
Now that we've been in our home for over a year, we've discovered a few things about home ownership. From air conditioning woes to yard maintenance, both inside our house and out, there's plenty to handle. One thing I wish we could have had more control over when building our home was the carpet. They don't offer any "best carpet for pets" options.
Pet Proof Carpet
In November, our adult children moved back home. They're building just two blocks away and we wanted to help them save for their own home. This meant we not only welcomed our oldest son and daughter back, but our son-in-law… and our daughter's two Chihuahuas.
This was in addition to our puppy, Cole. Plus, our daughter dog sits frequently, so we've had as many as 6 dogs in our house at one time.
Now, we worked with Cole for months before moving to make sure he was house trained for the new home. Our daughter's dogs? Not so much. Pets and carpet can have a love/hate relationship we've learned.
Thankfully, we've also been introduced to the PetProof carpet line from LifeProof available at The Home Depot.
The PetProof assortment is a complete collection of Texture, Twist, Loop and Patterned styles specifically designed to be "pet proof."
PetProof has lifetime stain protection, superior softness, exceptional durability and environment friendly attributes.
The pet proof flooring also provides the following benefits to pet owners:
0% moisture absorption to reduce pet odors in the carpet fiber
Nanoloc™ spill and soil shield for quick and easy cleanup
Lifetime stain protection, superior softness, exceptional durability and environment friendly attributes
Additionally, carpet selection and installation is simple at The Home Depot. Their in-store display provides samples upon samples of color choices, textures, and loops, as well as different padding selections and other flooring options.
If you're not able to get to a store, check out the pictures and selections available online at TheHomeDepot.com. To be honest, we did both. We looked online for color ideas and then went to the store to confirm our selection and order.
Not to mention, The Home Depot offers an all-inclusive carpet installation, exclusive warranty, and 72-hour install for customers who require quick service.
We had our install scheduled within days and had follow-up call the day before install, as well as 30 minutes prior. The installer that came to our house was friendly, diligent about the task at hand, and in and out within a couple of hours–leaving no mess behind.
And our dog? He loved the new pet-friendly carpet! Whereas we love the idea that it offers us a quick and easy cleanup, as needed.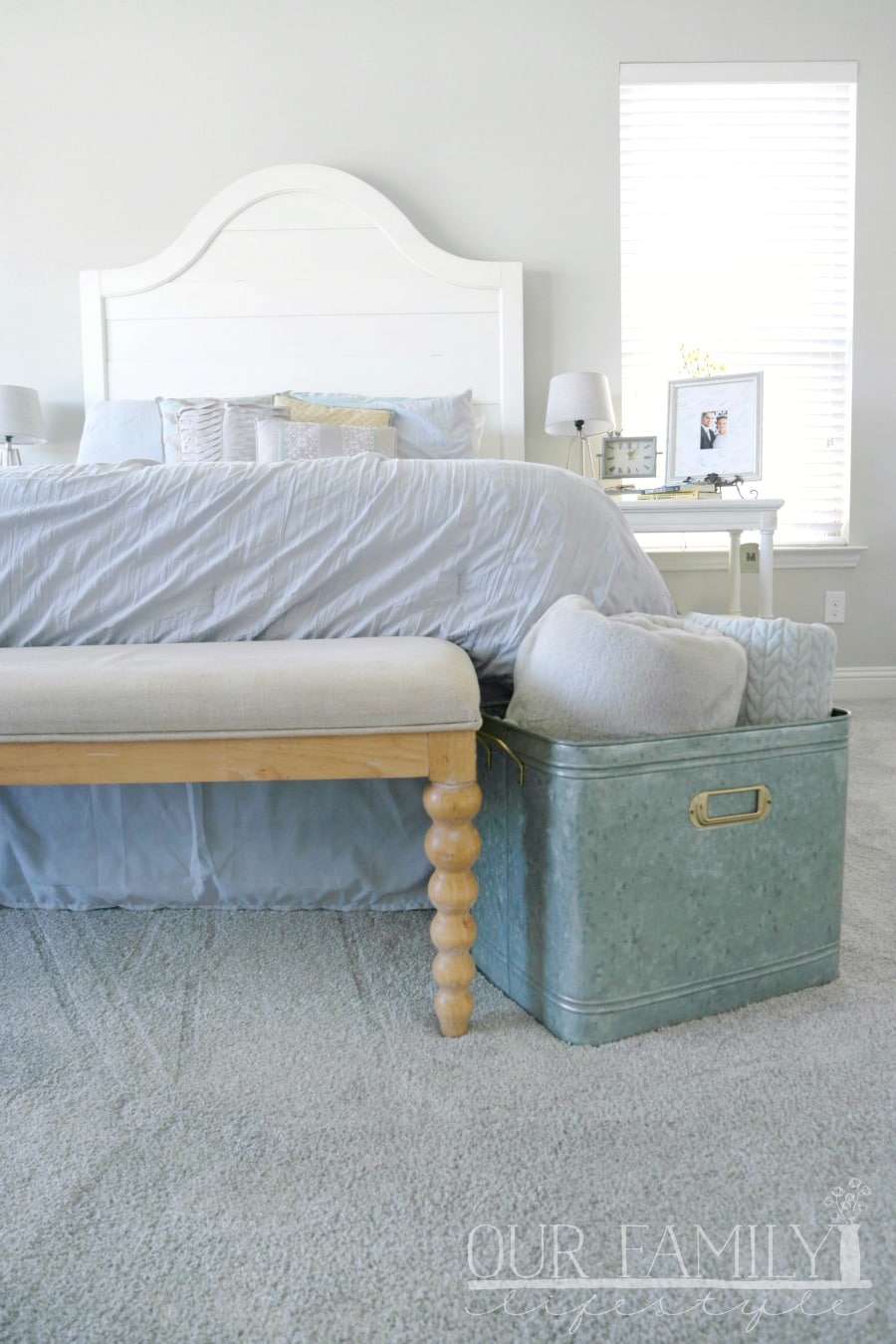 Considering Cole is the one that spends the most time lying in our bedroom floor, we gave him the first opportunity to try out the carpet. When the Chihuahuas are in the room, they prefer our bed.
We won't talk about how spoiled those girls are! But really, we're excited about the new PetProof carpet.
We've been keeping our bedroom door closed to keep the dogs from going in, but now it doesn't seem to be as big of a worry. Besides, I think the girls are starting to get the idea behind this "house-training" business.
Otherwise, our daughter and her husband will know all about the PetProof carpet line at The Home Depot once they move into their brand new home and need to look into the best flooring for dogs. It would be a smart investment for them too!
What are you looking for in pet proof carpet?
Find the PetProof line of carpet for pets at The Home Depot.
---
Disclosure: I acknowledge that The Home Depot is partnering with me to participate in this PetProof Program (the "Program"). As a part of the Program, I am receiving compensation in the form of products and services, for the purpose of promoting The Home Depot. All expressed opinions and experiences are my own words. My post complies with the Word Of Mouth Marketing Association (WOMMA) Ethics Code and applicable Federal Trade Commission guidelines.