This post is sponsored by Kohl's. I received the included back to school clothes and essentials as compensation.
---
During the summer, trying to juggle everyone's schedules seems almost crazier than the holidays. There are countless friend dates, camps, and pool days than we can keep up with. Trying to find a time when we can get all three of the girls to the store at the same time isn't always easy. Therefore, being able to shop online was a lifesaver!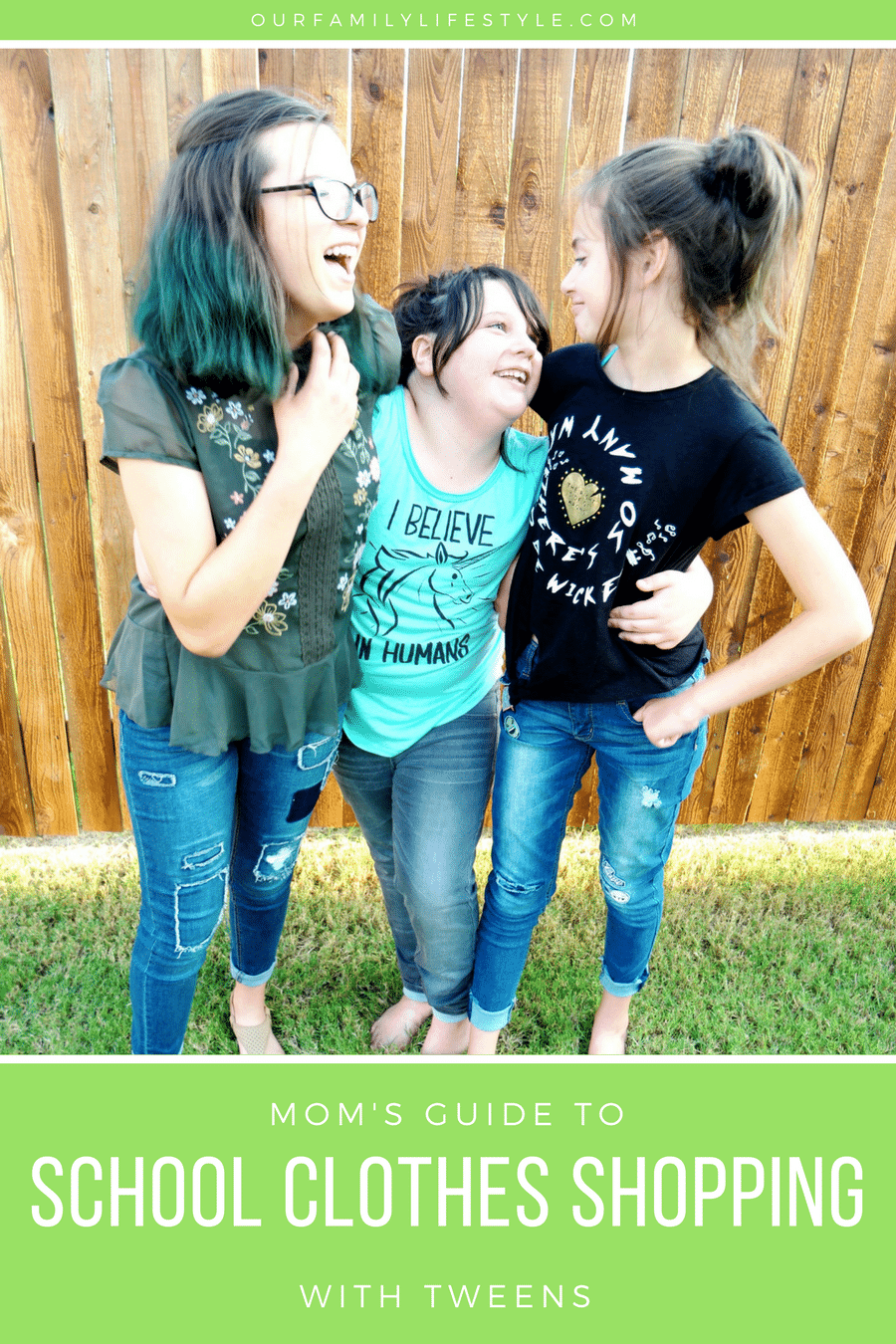 School Clothes Shopping
First, if I can be candid, taking these gals shopping can be all kinds of crazy. Joeli is 7 and can make decisions quickly. She is still in the "anything you pick out, Mom" is fine stage.
The other two? No way. One tween who lives and breathes fashion. And the other a teen with her own, unique style. Let's just say that shopping with my girls requires you to put your game face on.
By doing this, I score great deals online and they are each able to bring their "A-game" when it comes to back to school season.
Fortunately, I've been at this game long enough to discover a few tips and tricks along the way. Their older siblings helped pave the way and we have a decent guide to follow before we even begin our back to school clothes shopping.
Even though we're sitting at home, we still have the same guidelines for the kids to follow.
Take Inventory
All of our girls basically wear the same size. They may like the fit a little different, so that changes the size a little, but, for the most part, they can all wear the same size.
Therefore, before we even start looking at back to school clothes, we take an inventory of what we already have. They just went through their closets when we moved and donated plenty, plus they pulled out good, name-brand clothing to keep in our foster closet.
We never know when we will be called upon to take in more little girls, but we are well-prepared with clothes for them!
Taking inventory of what's left helps us not over-purchase the items they already have too much of.
Make A List
Once you know what's in the kids' closets, make a list of the items they need for the school year. Pay attention to the dress code and be sure to consider any special days or events they may have coming up.
For example, Jaden performs regularly with her music studio. Therefore, as we made her list, we added at least one dress appropriate for singing on stage.
Plus, no matter how many times we shop for seasonal clothes, the girls need denim. Whether its shorts, pants, or capris, they outgrow their bottoms so fast.
Fortunately, there are often plenty of back-to-school sales going on so we can grab great deals on denim for each of them! Whether looking for jeggings or boyfriend jeans, there's a style to fit all of them.
Patches on one pair and appliques on the other. See what I mean when I say Kohl's has something for everyone?!
And don't forget the essentials! Backpacks, socks, underwear, even uniforms, can be found online.
Check Sizes
One thing we are currently dealing with is the fact that the girls are transitioning into Junior sizes. We browse both departments to mix and match pieces and put together outfits.
But, as we make this transition, we have to ensure we're getting the right sizes. Therefore, it's important to check sizes, especially when shopping online. I actually pulled a few clothes out of my closet (because I'm one-of-those that keeps an array of sizes hanging in my closet) and found a size 4 dress that fit Jaden perfect.
This told us we were safe ordering the Junior size dress she wanted.
Look at Trends
Okay, it's not essential to all kids, but it's definitely something to consider. As we poured over the denim selections we noticed new washes, patches, and destruction.
Ironically, my girls love destruction on jeans… just like I do. (I'm always amused when they share my style considering I'm "mom"). Best of all? Name brands are often included in back to school sales!
Don't Forget Shoes
While you're focusing on clothes, don't forget how fast kids outgrow their shoes too! Plus, a new pair of shoes helps complete their fresh back to school look!
As a family, we live in Converse. But, the girls also decided to add both Vans and Adidas to their closet this school year. I think they chose fabulous styles!
Ready to tackle back to school shopping?
Be sure to watch for back to school deals starting soon!
---
My blog may contain links to other websites. Affiliate links are not associated with Kohl's. I am not responsible for the privacy policies of those other websites. When you click on a link, your information may be collected by those websites so I encourage you to read their privacy policies.