My family is such a huge part of everything I do. Whether I am referring to Colby and our kids or my parents and siblings, they all mean the world to me.
Disclosure: This is a sponsored post. All reviews and opinions expressed in this post are based on my personal view. [Learn more]
I grew up with a foundation based on a strong family and teach that to my kids. Once you see McFarland, USA, you may get that same lesson.
McFarland, USA
Based on the 1987 true story, Disney's "McFarland, USA" follows novice runners from McFarland, an economically challenged town in California's farm-rich Central Valley.  
These 7 runners work hard to build a cross-country team under the direction of their inexperienced running Coach, Jim White (Kevin Costner). He and his family are newcomers to their predominantly Latino high school.
Together, Coach White and the boys go on to create a winning tradition that lasts for several years throughout the school's history.
Three of the seven runners are brothers and spend early mornings and late nights working for their dad.
As "pickers" from an early age, they understand the concept of hard work and earning a dollar.
With plenty of mouths to feed, their dad, Señor Paul Diaz (Omar Leyva) instills a strong work ethic in the boys and expects them to help with the family's needs.
Their mom, played by Diana Maria Riva, makes sure the family is fed and the boys are ready to work as well as at school on time.
Meeting the real-life Diaz brothers, they talked about how much they love and appreciate their parents.
They know why they made them work so hard and are grateful for the lessons they were taught in their youth.
Not only do they come from a family of 7 children… all a year apart… but they each now have at least 4 children.
Their parents had 13 and 12 siblings respectively, and Danny Diaz has 7 children himself. Family is what they live and breathe.
In fact, Danny also mentioned that their cousins, uncles, aunts, friends, and church help them raise their children.
The term "family" extends past a blood relation. In McFarland, USA, you will see this play out in the small community.
When the team needs new uniforms and shoes, the town comes together for a car wash.
Working together they are able to get everything the team needs to look great at their next meet.
When Coach White finds out what a quinceañera is, once again, the town and his new friends go into action to give his daughter Julie one.
The community embraces the White family as much as they come to need the people of McFarland. They all become family.
family: a primary social group consisting of parents and their offspring, the principal function of which is provision for its members
Today, Coach White still lives in the small town of McFarland with his wife. The Diaz brothers are each landowners — in McFarland.
They raise their families in the same familiar community they grew up in. They feel as though they have the "village" there to support them and they offer their services back to the town.
Why? Because that is what families do.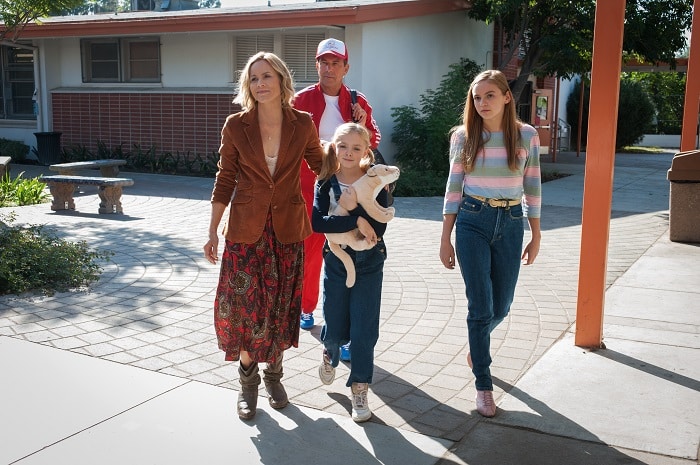 Head to the theaters this Friday, February 20th, to see Disney's McFarland, USA. Coach White and his family chose this place to call home for a reason and you will see exactly why in the film.