---
How often do you travel? Or what about just a simple drive to a nearby beach? What do you do with your valuables in either situation? Master Lock has a combination portable personal safe this is ideal for both scenarios… and more.
Portable Personal Safe
I actually travel quite often and need a way to keep my things safe on-the-go. The Master Locks SafeSpace® Portable Personal Safe is lightweight and perfect for travel. Plus, it is made to hold the items we typically carry when we are out: cell phones, credit cards, jewelry, keys, even point and shoot cameras. Simply set your own combination for keyless entry, lock your valuables inside, wrap the built-in cable around a secure object, and know your things are safe. In fact, that cable can even act as a carrying handle making it even easier to keep with you.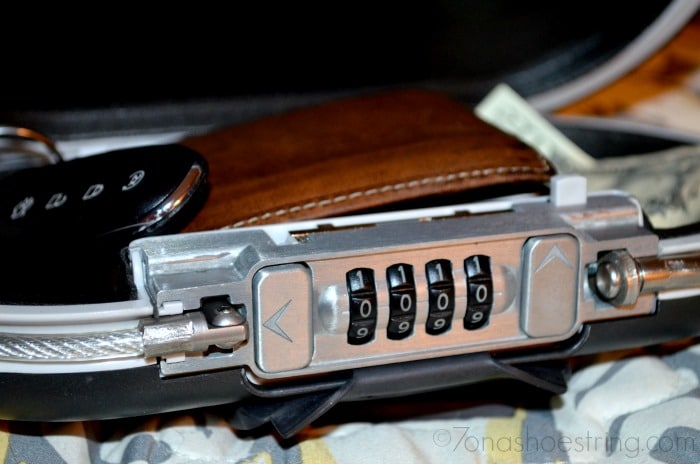 Basically, the key is in keeping both you and our valuables safe. These travel safety tips can help educe your risk of being robbed:
Avoid wearing expensive jewelry. Traveling as a tourist is not the time to flaunt your biggest, best gem on your finger. If you must bring it along, lock it up in the Master Lock SafeSpace Portable Personal Safe before heading out into the city.
Scan your travel documents. Keep your passport locked up and safe, but, just in case, scan them and keep a copy on your phone. You never know when you may need them in a pinch.
Dress to match the locals. If at all possible, try to blend in and not look like a tourist. Thieves know that travelers typically have the resources to travel, therefore they may have more money and valuables on hand. You don't want to make yourself more of a target.
Don't fight back. If you are ever approached by someone trying to take your valuables, remember that your life is worth more than your things. It is better to lose a phone or a few dollars than risk injury or worse.
Whether you are traveling domestically or internationally, or simply spending the day at a nearby park, keep your valuables safe and secure with the Master Lock SafeSpace Portable Personal Safe. It is durable and made to be water-resistant so take it with you everywhere!
For more safety tips and products, visit the Master Lock website or like Master Lock on Facebook.