---
How would you like to help Lalaloopsy stretch across America? I know my girls loved stretching their brand new Stretchy Hair Doll (Whirly Stretchy Locks) across a local park here in Dallas. We wanted to make sure to pick an iconic landmark… and you can't get better than longhorns in Texas, right?!
Lalaloopsy Stretch
Because Lalaloopsy Stretchy Hair's luscious locks are incredibly s-t-r-e-t-c-h-y, Lalaloopsy is celebrating by stretching her across the U.S. And you can help! Simply grab a Whirly Stretchy Locks doll at your local retailer and post a picture stretching her locks in front of a landmark in your town. Use the hashtag #StretchAcrossAmerica, along with a hashtag of your state name (for example, #Texas) and upload it to Instagram. They would love to see her stretch across the entire United States… and CAN with your help!
By the way, don't be afraid to give her hair quite a tug! Lalaloopsy Stretchy Hair has hair that stretches up to 3x its original length! Plus, you can style her hair as wacky and silly as possible by stretching it super long then styling it into a braid, twist or spiral. Once you are ready to bring it back to it's normal length, simply "dial" it back in with a knob on her head.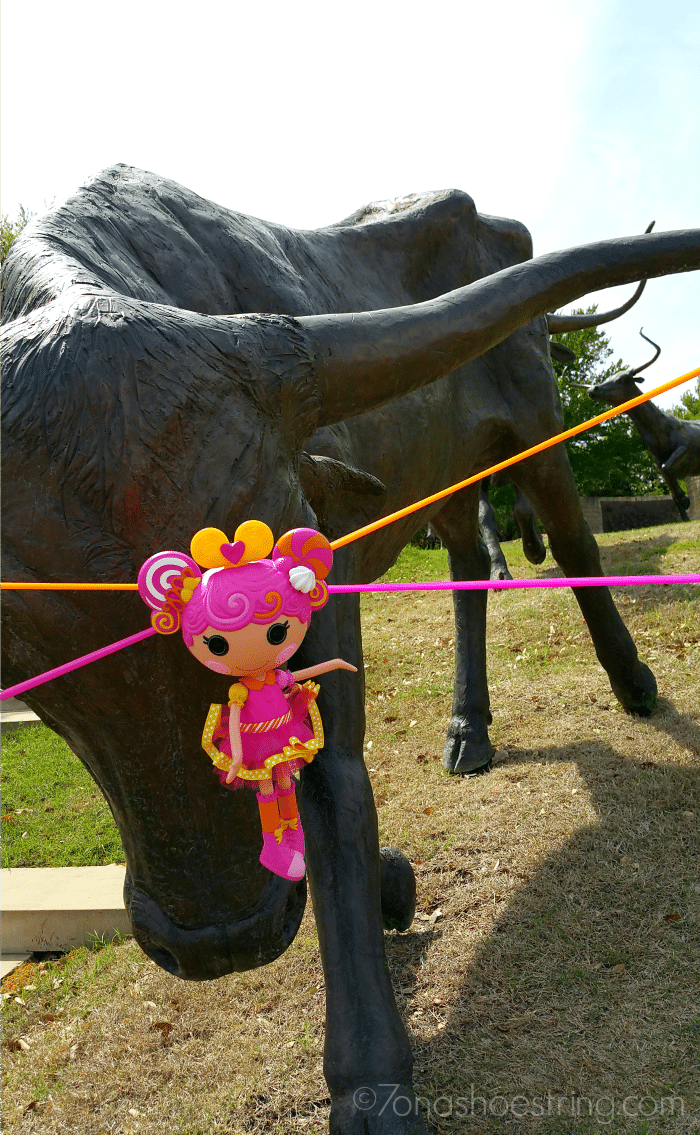 Not to mention, my girls love the bright, bold colors that Lalaloopsy wears and presents. Her unique style and vibrant color choices are a favorite in our house and make her stand out. After all, Whirly Stretchy Locks was made from candy, so she is already sweet as can be and ready to play with your child! Her absolute favorite thing to do is stretch her hair out as far as it will go… and then roll it or twist it or curl it into an all new style.
There is tons of fun to be had with Whirly Stretchy Locks and her springy hair! Find out more about the entire line of crafted dolls by liking Lalaloopsy on Facebook.