---
One of our middle daughter's (Jaden) favorite things to do is videos. Whether she is doing reviews, vlogging about her day-to-day routine, or crafting, she loves to put together videos. Therefore, working with KidzVuz comes natural to her. Recently, while in New York City, she was able to meet sponsors, shoot an interview, attend a movie junket, and have one amazing time thanks to KidzVuz.
This site contains affiliate links. I may receive a commission for purchases made through these links. As an Amazon Associate I earn from qualifying purchases. [Learn more]
KidzVuz BTS Bash
Colby and I wanted to make the trip to NYC about Jaden and KidzVuz. Even though I had a ticket to one of the blog conferences, I decided to forego the events, sessions and meet-ups to be with the family. We did a little sightseeing outside of Jaden's appointments and simply enjoyed our stay. Set up at the Homewood Suites Manhattan for the weekend, we were comfortable and excited about the great times to come!
When the time finally came for the KidzVuz BTS Bash, Jaden could hardly contain herself. She dressed up in a new outfit she picked out specifically for the occasion. She made sure the rest of us looked presentable and we were off to the Sheraton. Once inside, there was so much to see and do that we stayed longer than our 2 hour time slot. We wanted to make sure to get everything in… and we did!
Of course, as a huge WWE fan, Jaden didn't really want to leave the WWE booth. We knew that Natalya and Mark Henry were on their way and she wanted to be and the front of the line. Once they arrived, both girls were able to get autographed pictures and pictures. But, the best was yet to come for Jaden.
After prepping herself for a bit, she was able to interview Natalya for KidzVuz. She was a little overwhelmed with emotions considering it was like a dream come true for her, but she did it. Natalya even told her how proud she was of her. This one interview pretty much made Jaden's entire trip worth every minute on the road to New York from Dallas!
During our circles around the KidzVUZ BTS event space, we met several brand reps and discovered a wide selection of new toys, products and ideas. The girls even got their hair braided and colored with hair chalk before we began our walk around. Star Stable was nice enough to do the girls' hair while they checked out their game. What a fabulous idea!
Lysol had a fun "Whack-a-Germ" game that really caught the kids' attention. Not to mention, they helped teach healthy habits in a school setting and had an incredible area to  take in.
Jaci couldn't get enough of the cupcakes Mommy Nearest was serving up! Ummm… she may have had like 3? Apparently they were delicious!
Good thing DenTek was also on hand! Jaci got excited when she saw the display of products on their table. In fact, she told me if we had their items she would brush her teeth more. No lie, since we were given samples at the event, she IS brushing and flossing more! SOLD!
In addition to the products we saw and learned about above, there were, of course, items that were made to play with:
LEGO The Mystery Machine… and just all the LEGOs.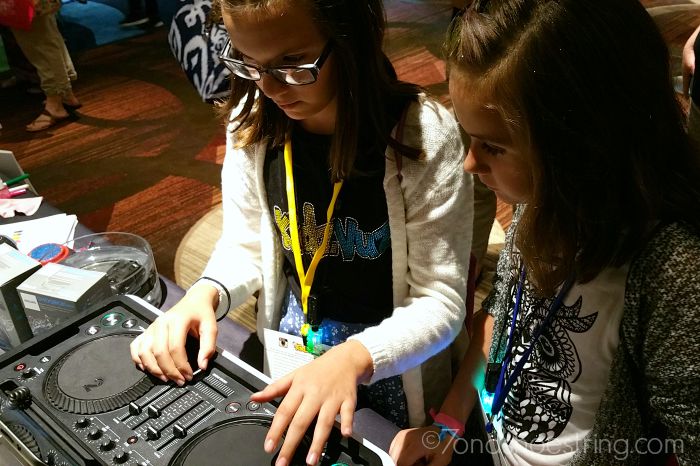 Philips Sound M1X… which Colby ended up winning in a Twitter contest! The girls are crazy excited since music is such a huge scene in our house.
Even Classic Arcade Games to represent the upcoming Sony Picture Pixels starring Adam Sandler, Kevin James and Josh Gad.
Overall, we could not have had a better trip and more amazing time at the KidVuz BTS Bash. These ladies sure know how to rock an event! Other sponsors included LG, Wonder Workshop, LEGO Dimensions, Hasbro, Game Stop, AVG and more.