---
When was the last time you toured Dallas during the holidays? We live here and we have not been downtown to see the sights enough! But, this week Colby and I took in as much as could during a whirlwind, fun-filled staycation with our girls. From magical musical performances to sparkling city lights, Dallas offers festive holiday fun for the whole family.
Holiday Fun for Families
The time to start planning your Big D Holiday adventure is now! There is so much to see and do, you won't want to miss a thing. The Dallas Convention & Visitors Bureau partners with arts institutions and area attractions to showcase a full array of enchanting events perfect for families. Pack your bags and get ready for a captivating holiday experience with your family.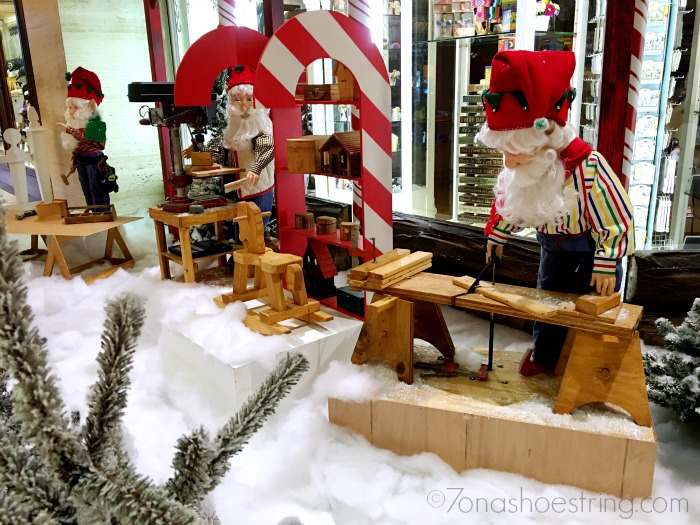 Hilton Anatole Hotel
With so many things to see and do in one area, the Hilton Anatole Hotel is close to it all and is a beautiful place to spend a few days. Not to mention, during the holiday season, the hotel transforms into a winter wonderland. Have breakfast with Santa, let the children get their faces painted, take part in Christmas-themed scavenger hunts and much more. Your time at the Hilton Anatole Hotel will spark a holiday spirit in even the toughest Scrooge!
Dallas Theater Center
Speaking of Scrooge, the Dallas Theater Center brings the holiday classic "A Christmas Carol" to life at the Wyly Theatre. It is a critically acclaimed take on Dickens' enduring classic asking us all to think of our fellow man. The actors are sure to evoke laughter, tears, and perhaps a bit of fear as they bring the time-honored story to life on the stage. Definitely a must-see piece of the arts on your holiday tour.
Reunion Tower's GeO-Deck
If there is one thing that identifies the Dallas Skyline by sight alone, it's the Reunion Tower. From 470 feet in the air, you will find Santa, his elves and a few furry friends from the Dallas Zoo awaiting your weekend visit this holiday season. The Reunion Tower's GeO-Deck allows you to enjoy the incredible view that can only be experienced from Dallas' most iconic structure. Breathtaking 360-degree panoramic views, high-definition zoom cameras, and an indoor/outdoor observation deck await you. The girls favorite part? The interactive touch screens where you could choose from the various light displays the ball displays through the year. Then, they discovered if you use four hands, the ball would send a shower of lights over the screen! So much fun!
Portraits with NorthPark Santa
No one does holiday cheer as well as Santa Claus! At NorthPark Center, kids can climb up into Santa's lap as he sits in his cozy living room by the fireplace. Not only will Santa listen as your children tell him their most desired holiday gift ideas, but he is also an amazing storyteller himself. He told our girls a variety of short stories about his life with Mrs. Claus and the reindeer in the North Pole. Of course, he also made sure to tip them off on his favorite cookie: Chocolate Chip. Colby and I were thrilled to capture it all on video, as well as prints, thanks to Marc Robbins Photography!
Trains at NorthPark Center
After stopping by Santa's house, NorthPark Center has much more to see and experience before you leave. Perhaps one of their biggest attractions, next to Santa of course, are The Trains at NorthPark. Benefiting the Ronald McDonald House of Dallas, the miniature toy trains exhibit is the most elaborate in Texas. Search for characters you and your family know and love as you visit the display featuring sights from Dallas and other popular U.S. landmarks. The girls found Star Wars characters, Thomas the Train, and even Ronald McDonald himself within the display.
Holiday at the Arboretum
After looking at the majestic landscapes of the Trains, get outside and take a stroll through the Dallas Arboretum and Botanical Garden. Throughout the holiday season, they are featuring the 12 Days of Christmas exhibit. By following the walking paths, you will discover twelve 25-foot Victorian-style gazebos with charming costumed characters, music and more. Each one represents one of the 12 days of Christmas with beautifully adorned animals and magnificent scenes. Once the sun sets, the gardens come alive with half a million twinkling lights in a dazzling display of holiday merriment.
Dallas Children's Theater
Bring the festivities back inside with a visit to the Dallas Children's Theater. Run by a staff of 26 people, this theater puts on tremendous productions sure to be loved by all. In fact, through December 20, catch the Dallas Children's Theater's production of the classic, "Miracle on 34th Street." Additionally, the whole family will enjoy "Not a Creature was Stirring" as told by an incredible cast of puppets. After the show, stick around and take photos and get autographs from the actors in the play as a fun, interactive way to engage with the theater and it's crew.
George W. Bush Presidential Center
Step inside the Oval Office as it was presented during President George W. Bush's administration at the George W. Bush Presidential Center. Moreover, "A Season of Stories: Christmas at the White House 2003" gives you a glimpse into the White House during the Christmas season of 2003. See a full-size reproduction of the official White House Christmas tree and delightful décor featuring beloved storybook characters. Travel through the time "Dubya" spent in the White House and get a small glimpse into the life of our 43rd President of the United States.
Finally, the entire bustling area of Downtown Dallas becomes a "Downtown Wanderland" including the popular Klyde Warren Park. Enjoy season-long programming featuring holiday pop-up shops, happy hours, photos with Santa, movie screenings and more throughout the city streets. This, of course, in addition to the city's retail and restaurant establishments open year round waiting for you to stop by!
Even in addition to all of this, there is still so much more. You know that they say about Texas… everything is bigger here, right?! Well, I am here to tell y'all that Dallas has definitely done it BIG! Contact the Dallas Convention & Visitors Bureau to start planning your trip soon!
---
YOU MAY ALSO LIKE: