Disclosure: Post sponsored by Mirum but all opinions are 100% my own.
---
Any guys remaining on your holiday shopping list? Looking for something different? Something "guy-approved." Think outside the box for a minute. A Gable Top box, as a matter of fact. You know the one. The 26-pack of Slim Jim from Walmart. THAT ONE!
Slim Jim Gable Top
I know the guys in my house never leave a box of Slim Jim around for long. Once that gable top is pulled back, the 26 Slim Jim inside are quickly devoured. Therefore, it only seemed fitting to create a unique gift basket for one of my guys that was centered around the meaty treat. Browsing the holiday gift aisles at Walmart, it was easy to find other manly ideas that would fit well into the themed-gift. Of course, Slim Jim was to be the key ingredient to ultimately pull together the perfect gift to win over every guy's heart… or his stomach in this case!
I found the perfect charging station to use as a base for the Slim Jim gift idea. All of the guys in family have asked for one, so no matter who gets this holiday gift basket, the others will be jealous. Well, the Slim Jim Gable Top is sure to draw some attention as well, but maybe they will share those! One thing that might not be shared though is the back scratcher I put inside! It may be left to the first man that uses it. And I know someone will as soon as it's opened! Finally, since our team is having an incredible season, I had to include a few sports items. A rolled t-shirt and football stress ball were the perfect way to make this guy-approved gift come full circle!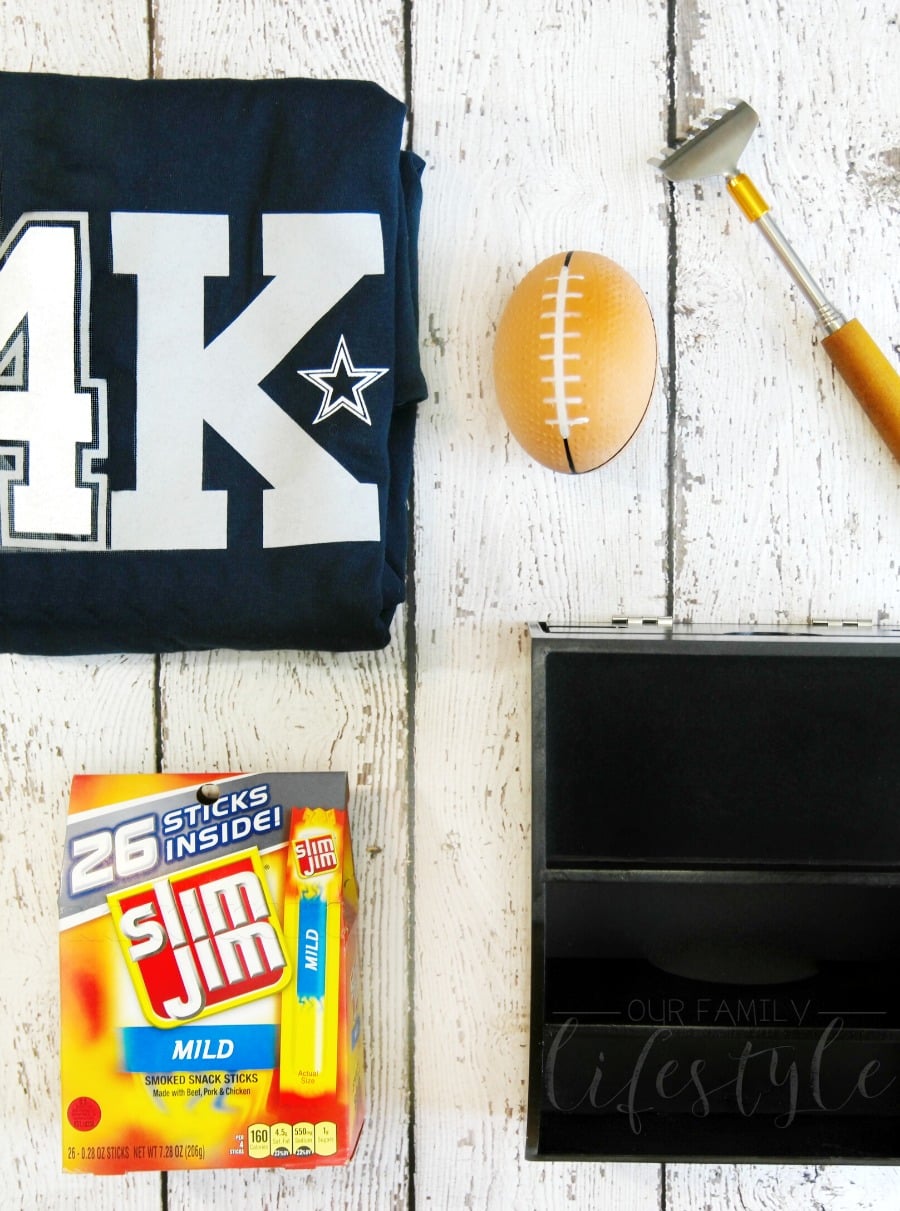 Now, the toughest decision for me will deciding which one of my guys will get it! Knowing them all as I do, I know it will be a gift they would all enjoy. Actually, this Slim Jim gift will make the ideal white elephant present! Considering the amount of Slim Jim meat treats inside, paired with the other manly items, I am sure this will create a fun, competitive game among everyone involved! After all, the guys will be fighting for it for themselves, and the ladies will fight for it for their guy. Or, who knows, even for themselves!
Would you like a chance to win a $100 Walmart gift card?
Create your own Slim Jim stocking with guy-approved gifts and you could be a winner! Enter today but hurry! Sweepstakes ends on December 19th!