---
I dare say when most families think of a beach vacation, they plan for a summer trip. But, can I just tell you how incredible the Gulf Coast is in the fall?! I was worried it would be cool when we arrived, but the weather was absolutely perfect while we were there. Not to mention, there was an abundance of fun for families at the Sandestin Golf and Beach Resort.
Fun for Families
First, having a family larger than the norm, it can often be a challenge getting us all into one room when we travel. It is ideal for us both in savings, as well as togetherness. We do actually appreciate the time we spend as a family. So, when we arrived at the Sandestin and walked into our 3 bedroom, 3 bath condo we were in complete awe. I mean, really. I could have cried I was so excited.
It was not just the space, but little things. The balcony. An incredible view no matter which direction we looked. A full kitchen. A mini kitchen in our master suite. A washer and dryer. Ummm… that alone won over Colby. The coolest thing to us? A table that actually fit our entire family. That never happens. I cannot explain how that made us feel. See? The little things.
As we began to explore the resort, we, of course, had to start at the beach. A quick 5 minute walk from our condo across a parking lot and we accessed the private beach area. White sand and blue waters as far as you could see. Not crowded. Perfect. The kids could not wait to get into both the sand and the water. It was the first time most of us had seen white sand. It was soft and cool and different than the Texas Gulf beaches we had visited before.
Although the water had a bit of a chill for me, Colby and the kids jumped right in. The crashing waves became a playground of laughter for the kids as they jumped and played. The sand was my haven. Sitting and watching as my family enjoyed our time away was all I needed. I found my happy place right then and there for the moment.
But, there was much more to see of the 2,400-acre destination resort. We rode the tram over to the other side of the highway and picked up our transportation for the rest of our stay. Bikes! For everyone. Well, Colby pulled Monkey behind him in a trailer, but the rest of us pedaled along behind them. We had never all been bike riding together before since we do not own enough bikes for everyone to ride at home. It was so much fun! Back to those little things that make it fun for families.
As part of our planned bike adventure, we rode to Jolee's Island for a picnic lunch. The nature park was the perfect setting for a lunch on the bay and nature walk. The girls sat in Capt. Joe Lee's Tree House and played pirates as we ate and talked. It was incredibly serene and pleasant.
After a satisfying lunch, we packed up and jumped back onto our bikes. Another short ride away, we discovered The Village of Baytowne Wharf. It is a 28-acre pedestrian village that features over 2 dozen restaurants, shops, boutiques, and nightlife venues. Not to mention, there was an exemplary amount of fun and adventure that awaited us in Baytowne Wharf.
We began our time in The Village playing at the wooden park, and then made our way to the ice cream shoppe for a cool treat. Next stop? Straight to the Zipline for a bit of high-flying excitement. Now, the teens had all gone before at camp. Colby and I had never been on a zipline, and neither had the three younger girls. We got everyone from Princess on up belted up and ready to go. Monkey stayed below on a small ropes course.
After watching everyone but Princess go on the Zipline (I knew that our 7 year old would not be able to do it but gave her the opportunity to try), Monkey… our 4 year old… insisted that she go. The guys working the zipline said they have had 3 year olds go before, she met the height/weight requirement, she could go if she wanted. Holy moly! I was about to hyperventilate between laughter as we got her and I ready and started up the stairs. When we got to the "plank" as I call it, she took baby steps, turned back to look at me, smiled, and picked her feet up. She laughed the whole way across! When I got to the other side she quickly said, "Again, Mommy. Again!" Oh my goodness, Y'all!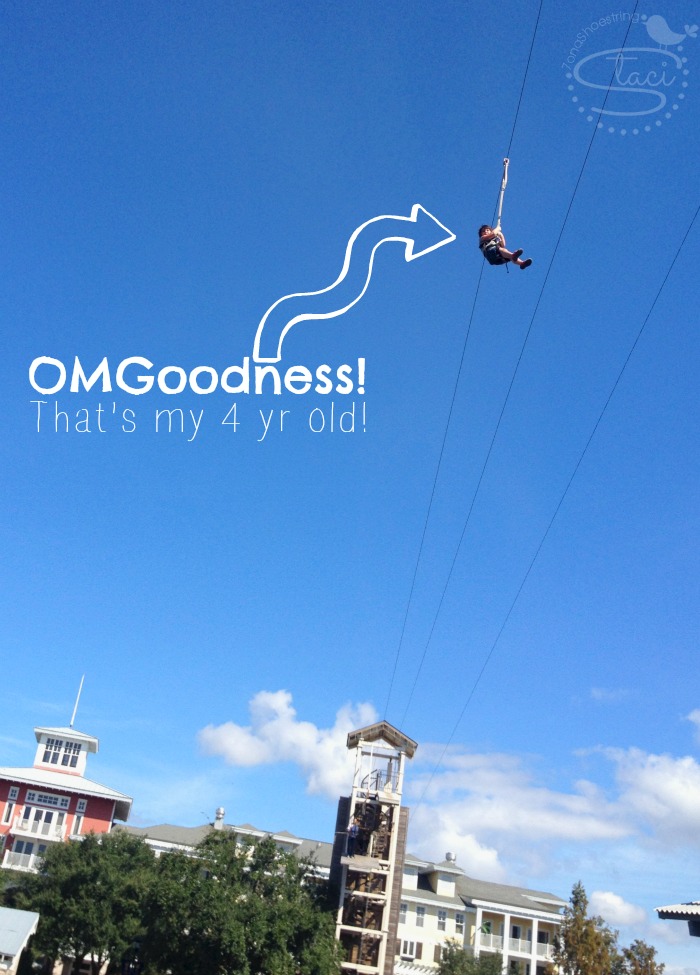 That was enough excitement for me the rest of the day. I am still in awe as I remember. She has no fear. By the end of our stay she was even picking up sand crabs and holding them in her hands.
But… moving on. That night we did venture back to Baytowne Wharf. We were able to catch the sunset off the pier before we had a family dinner together at the local pizzeria. And then a dip in the pool and hot tub before heading back to our room. It was an incredibly jam-packed day from beginning to end, but we enjoyed every minute.
Making the most of our time there, we were up early the next day ready to go again. Additional time on the beach and then back to Baytowne Wharf for more. The carousel, an arcade, souvenir shops, an outdoor concert, coffee shop, and even kayaking. We wanted to do all that we could during our short stay at the Sandestin.
What did I tell you? So much to do. And that is not even all of it. The Sandestin Golf and Beach Resort has something for everyone. Whether families, couples or business travelers… there is going to be an amenity to fit your needs. Weddings, meetings, family reunions. You name it! I know that we are already looking forward to making it back one day.
What would be your first fun family adventure at the Sandestin?
Right now, the Sandestin is even running a limited time "Fall for It All" promotion. You can enjoy 30% off three nights or more when you mention the group code SAVE30. It's definitely the time to go!