Disclosure: This is a sponsored post for which I've received free product and/or compensation, but the opinions are 100% my own.
---
After being kept inside during the cold weather months, the warm sun of the spring and summer months brings a need to get outdoors. It's the perfect time to unplug and get outside to run, skip, bike and play.
Family Fun Outdoors
Speaking of playing, we enjoy finding new ways to create family fun outdoors. Interestingly enough, I often draw on my own pre-technology childhood to encourage the kids to play together.
I spent most of my weekends with my cousins and we enjoyed playing all sorts of games. All we needed to play was a bit of creativity and a lot of energy.
Colored Eggs
This backyard game, even in its simplicity, is still a favorite for my oldest children and their cousins.
Choose a "mama hen" and a wolf. The other players are all eggs. The wolf then "knocks" on a pretend door and mama hen begins the conversation, "Who's there?" "The Big Bad Wolf." "What do you want?" "Colored eggs." "What color?" The wolf then has to try to guess a color that represents one of the "eggs" (they each pick a color and tell mama hen).
Once he picks a colored egg from the nest, he chases the egg around. If the egg makes it back to the nest without getting caught, the wolf goes through the scenario again. If the egg is caught, it becomes the wolf.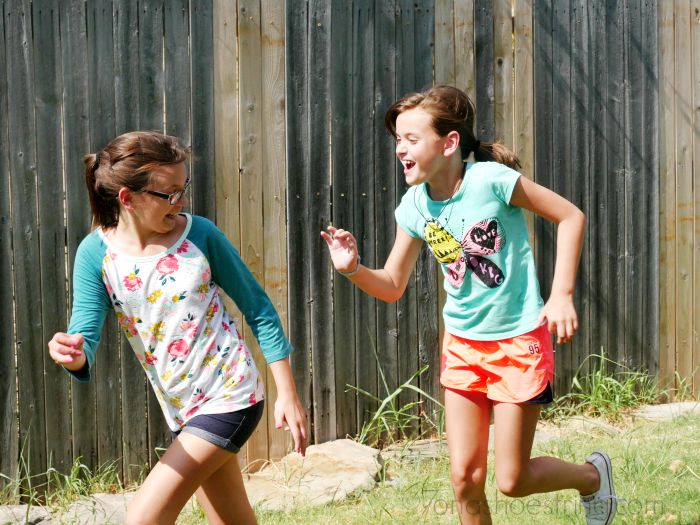 Cartoon Tag
We've all played a game of freeze tag, right?
Cartoon Tag adds an additional element to the game of chase. One person is chosen to be "it" while the others prepare to run.
As the pursuit begins, the pursued must shout out a cartoon character if they are in danger of being tagged. If they are caught before naming a character, they are frozen. The last person not frozen then becomes "it" for the next game.
Red Light
Choose a "traffic light" and line everyone else up several yards away from the light. The traffic light then yells out a stop light color: red, green, yellow.
Each color represents the speed at which the others must try to get to the traffic light. Green = go; yellow = slow; red = stop. On green everyone runs, yellow means walk, and red means stop.
Those caught moving on red must go back to the starting line. The first one to the traffic light wins and takes their place.
Although simple in nature, each game is a joy to play and keeps the family playing for as long as everyone can continue.
Of course, with all the active play, we need to make sure the kids get the essential nutrients they need to go on to do big things. That's why there is L'il Critters™, the #1 Kids Gummy Vitamin brand.
It's only right that I complement their classic form of fun with great tasting gummy vitamins that have been infusing fun into children's nutrition with its line of delicious kid's gummy vitamins and supplement since 1998.
How do you and your family enjoy the outdoors?