---
Sometimes an email lands in your inbox that literally makes you want to shout with joy! The day the official invites went out for the #StarWarsEvent you better believe the house was filled with plenty of excitement! This IS the event I was waiting on. I mean, it's Star Wars! And we have a jam packed event to go along with the movie opening. Are you ready for Star Wars: The Force Awakens?
Star Wars: The Force Awakens
Perhaps the most exciting piece of news, for me at least, is the fact that we will be interviewing Harrison Ford. THE Harrison Ford. Han Solo himself. Oh my goodness! I was 3 years old when Star Wars first came out. When The Empire Strikes Back came out in 1980, I was finishing up kindergarten and remember wearing knee high Star Wars socks. The movies may have been new to the scene, but they were already making waves in the world. Those original graphics? Wow! They were a huge deal back then and it's been incredible to see the advancements made over the past couple of decades. Today, Colby and I are honored to share the legacy that is Star Wars with our children.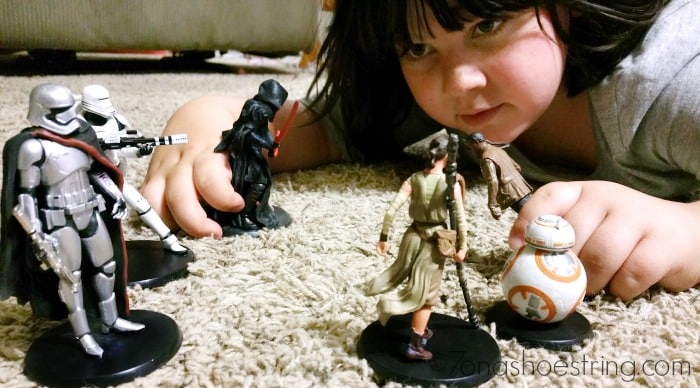 Just because our youngest three are girls, don't think they aren't as excited as the rest of us! In fact, Joeli (the youngest of the family) has more Star Wars t-shirts than anyone in the family and even more toys. She also does a fun Chewbacca impression and actually walks around doing his "talk" quite frequently. Well, see for yourself in this fun little video Colby and the girls made:
See? We can't wait! We have our tickets for the 17th. We have watched Episodes I through VI several times over the past few months and are simply counting down the days. The kids have asked questions and we have had several discussions about what happens, who is who, and what we think may happen in
The Force Awakens
. Looking forward to seeing who was right when the movie premieres on
December 18th
.
I wish for Joeli's sake we could talk to Chewie — but we do have a pretty stellar line-up of interviews (in addition to Harrison Ford mentioned above):
Oscar Isaac ("Poe Dameron")
Lupita Nyong'o ("Maz Kanata")
John Boyega ("Finn")
Producer & President of Lucasfilm Kathleen Kennedy
Director, Writer & Producer J.J. Abrams (AAAGGGGHHHHH) <–not his character name — just me freaking out!
Daisy Ridley ("Rey")
Everybody just take a breath. Whew. Now let's continue.
Okay, as I mentioned, our trip to LA will include more than Star Wars. We will also attend a fun junket for the new Disney movie, Zootopia!
After a Footage Presentation with Directors Byron Howard and Rich Moore, as well as Producer Clark Spencer, we will attend a few Filmmaker Presentations with Writer and Co-Director Jared Bush, Writer Phil Johnston, Co-Head of Story Josie Trinidad, Head of Editorial Fabienne Rawley, Art Director of Characters Cory Loftis, Head of Animation Renato dos Anjos and Animation Supervisors Nathan Engelhardt, Jennifer Hager and Chad Sellers — all from Zootopia. It should be a great learning experience as far as getting behind-the-scenes of the movie that opens in theaters on March 4, 2016!
Speaking of behind-the-scenes, we will be getting an exclusive look at the set of Agent Carter as well! Anytime we get to step foot on the set of a Marvel's production it's a pretty big deal. This will be my second visit to this particular set and I can tell you it's fascinating! Not to mention, we will chat with Hayley Atwell ("Agent Peggy Carter") and James D'Arcy ("Edwin Jarvis"). Plus, we will get an in-depth look at the costumes from the show with Costume Designer GiGi Melton. Marvel's Agent Carter will air on Tuesdays at 9 pm ET beginning on January 19, 2016 on ABC.
Oh! We do have a fun interactive event you can take part of! Monday night, December 7th, we will have dinner with Carter Oosterhouse, the host and judge from "The Great Christmas Light Fight", and his wife Amy Smart. At 8pm PST we will be live tweeting the premiere of "Light Fight." If you are watching, jump on Twitter and let's chat! Follow the hashtag #LightFight to join us!
Our last day in LA will be filled with plenty more goodness from ABC! We kick off the day having brunch with Chris Harrison who will introduce a special preview of Season 20 of "The Bachelor." Afterward, we will have a bit of time for a Q&A session to discuss 20 seasons of the show! WOW! If you have questions for him, tweet me (@7onashoestring) using #TheBachelor! Watch for the season premiere on Monday, January 4, 2016 at 8/7c.
Next, we head to the studios for a preview of the Season Two premiere of "Galavant" and an interview with Executive Producers Dan Fogelman, Kat Likkel and Timothy Omundson to end our time in LA. Galavant returns with season 2 on Sunday, January 3, 2016 at 8/7c.
Whew! Now you can see why it's exciting! So much to see and do — and share with you as we begin today and continue through Tuesday, 12/8. Follow along on social media with the following hashtags:
#StarWarsEvent
#ABCTVEvent
#Zootopia
#LightFight
#TheBachelor
#Galavant
---
YOU MAY ALSO LIKE: