Disclosure: I participated in an Influencer Activation on behalf of Mom Central for the American Optometric Association. I received a promotional item to thank me for my participation.
---
Do you and your family use technology often? I can assure you that around here, that answer is a definitive yes! I mean, Colby and I both work long hours on the computer to run our separate blogs… and then time off the computer is typically spent checking in through social media on our phones. Why? Because our jobs require it. How about your children? Back to school season has begun and their schedules may require more screen time.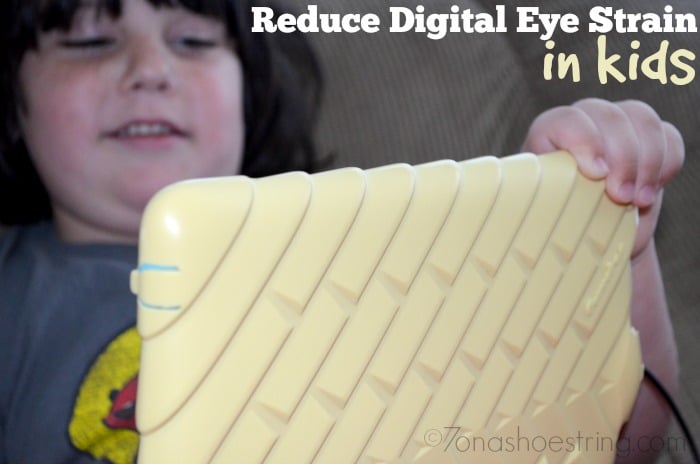 Digital Eye Strain in Kids
As for our kids, well, yes again. Our homeschool curriculum is done through pdf booklets on a tablet. They then supplement learning exercises through a variety of websites. Therefore, even with our daily school routine, technology plays a huge part. According to a survey from the American Optometric Association (AOA), parents drastically underestimate the time their children spend on digital devices.  The use of technology for children is on the rise and it is estimated that 83% of children between the ages of 10 and 17 use some sort of electronic device for 3 or more hours a day.
This raises a growing concern for how the high-energy, short-wavelength blue light rays from everyday electronic devices might affect, and even age, the eyes. Being able to spot and identify symptoms of digital eye strain can help you, as the parent, take the proper steps towards protecting your child's eyes in the long run. Symptoms that can include headaches, fatigue, loss of focus, blurred vision, double vision or head and neck pain. So what do we do to help reduce vision problems?
To help prevent or reduce eye and vision problems associated with digital eye strain and exposure to blue light, the AOA recommends:
Check height and position of devices. Computer screens should be 4 to 5 inches below eye level and 20 to 28 inches away from the eyes. Digital devices should be held a safe distance away from eyes and slightly below eye level.
Check for glare on screen. Windows or other light sources should not be directly visible when sitting in front of a computer monitor. If this happens, turn the desk or computer to prevent glare on the screen. Also adjust the brightness of the screen on your digital device or changing its background color.
Reduce amount of light in room to match computer screen.
Adjust font size. Increase the size of text to make it easier on your eyes for reading.
Blink. Yep, blink! Frequent blinking reduces the chances for developing dry eye by keeping the front surface of the eye moist.
We currently have 2 children that wear glasses daily, 2 that wear them just for reading, and one that does not have the need for corrective lenses… yet. Eye exams should be a part of your yearly check up schedule and back-to-school season is a perfect time to get them done. The AOA recommends every child have an eye exam by an optometrist soon after six months of age, before age three and every year thereafter.
We are fortunate that my kids have an excellent optometrist that they have seen for several years, and he makes it fun for them. It sure makes taking all 5 of them in for eye exams a lot easier!
How do you promote eye health in your family?
For further information on eye health, like AOA on Facebook and follow @AOAConnect on Twitter.