---
Out of our 5 children, our (almost) 10 year old, Jaci, is my most shy. In fact, this year I gave her a word to focus on: courage. I want her to have the courage to be who she wants to be and to not back down from things. I need her to step outside her comfort zone and reach for the dreams she has for herself. More importantly, I want Jaci to feel comfortable being her and to celebrate her own individuality. I love her just the way she is and believe the world will too.
Celebrate Individuality
It's a tough job in today's world teaching kids that they can be comfortable with who they are. That their unique personality, talents, and qualities make them who they are. Children, tweens… even some adults… need to learn to celebrate individuality rather than hiding it. Those faces we see all around us on social media, in movies or own magazine covers do not have to represent the person they need to become. Seriously though, how boring would that be?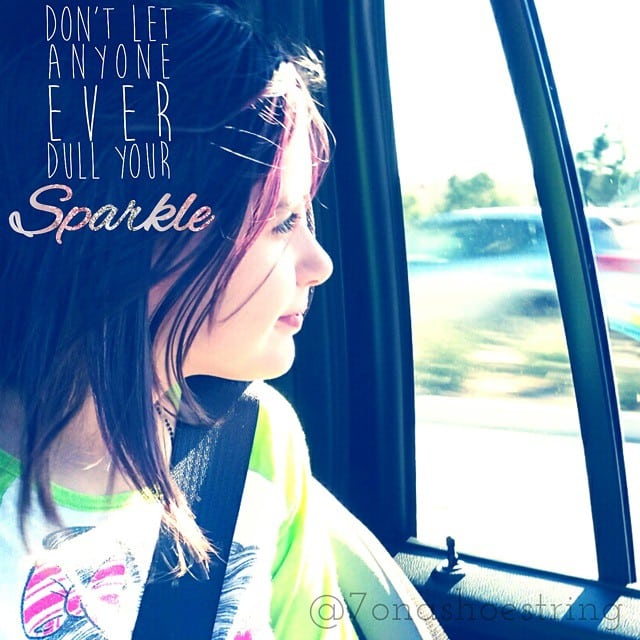 Jaci wants to be a fashion designer. She dreams of New York, Paris, Milan and even Australia. She has aspirations and goals in several areas of her life and understands the work it will take to get there. Colby and I encourage her daily. We have bought her books on learning how to draw basic fashion elements, apps on design, Paris-themed room decor and clothing, even fabric for creating. We want to help her develop her passion and assure her that we support our dreams.
We don't want to challenge her ideas about her future or change her mind to match our ideals. We not only follow this rule with Jaci, but with her siblings as well. Each one of our children are different and we accept them as they are. After all, by showing them acceptance in the home, we are teaching them to value and celebrate individuality in others outside the home as well. To accept others and to always show kindness.
Dearfoams is partnering with STOMP Out Bullying™, the leading national anti-bullying and cyberbullying organization for kids and teens, to help encourage tweens to feel comfortable in their own skin. In fact, Dearfoams is donating $100,000 to STOMP Out Bullying™ and is asking tweens and teens, as well as us parents, to participate in partnership by generating photos and stories on the #BeComfortableBeYou hashtag. Stories that encourage others tweens to feel comfortable being themselves. To cultivate a conversation that stands up against bullying and celebrates individuality.
How do you encourage others to be unique?
Prizing courtesy of Dearfoams.