This site contains affiliate links. I may receive a commission for purchases made through these links. As an Amazon Associate I earn from qualifying purchases. [Learn more]
---
We have been using car seats consecutively for over 19 years now. We have had at least one child in a car seat for that long. We have also gone through quite a few in that time. Recently, we discovered Graco's 4Ever All-in-One Car Seat. Wow. Wish I would have had it years ago!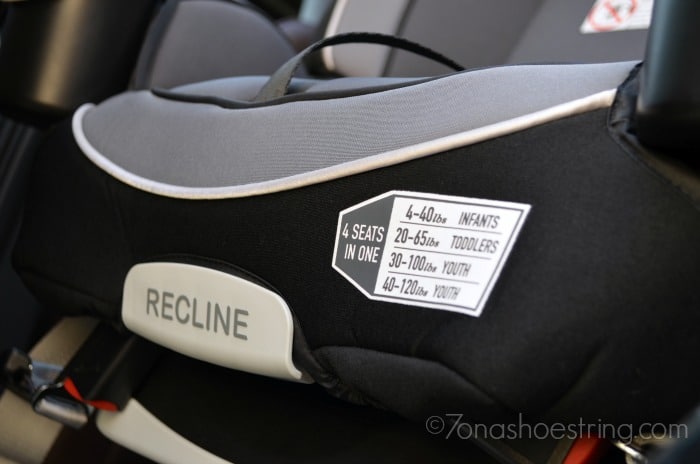 Graco 4Ever All-in-One
The name pretty much says it all. The Graco 4Ever All-in-One is designed to act as 4 seats in just one car seat. You can literally use the 4Ever from the time you bring baby home from the hospital until they no longer needed a booster.
For us, our girls are already well into the booster stage. But, our youngest, Joeli, we still keep in a Highback Booster. She is only 5 but weighs more than our 8 year old and is almost just as tall. Her thyroid issues keep her in the top percentile for her height and weight. Again though, at 5, I still like to maintain a little more stability in her with the highback. Plus, the Graco 4Ever has plenty of cushion to keep her comfortable. The one-hand adjustable headrest also makes adjusting the seat quick and easy to ensure proper head position.
And I have not found a more simple car seat to transition into each usable formation. The 4Ever comes ready for a rear-facing infant up to 40 lbs to use. For toddler, just a few adjustments as you turn the car seat around to forward -facing are needed. For a child over 30 lbs using the highback booster, this is where it typically gets tricky. Not with the 4Ever. The inserts and all have been removed and now it's time to put the harness system away as well.
Again, having gone through my share of car seats, I found the integrated harness storage compartment the most fascinating (non-safety) feature yet. Practicality goes a long way for me… and this went above and beyond that! Clearly, you may be able to tell, I loved how quick, easy and practical it made the process. We had the car seat ready to go in 5 minutes.
You simply loosen the harness straps. Undo the headrest pad snaps. Open the flap and undo the lower snaps on the seat pad. Open the harness storage door and place harness, chest clip, and buckles into compartment and close the door. Next, fold the buckle into the allocated space and replace the seat pad. Done. The highback booster is ready to install.
Not to mention, the car seat is loaded with plenty of bright, bold instructions. This means that using the seat in any capacity should be a cinch. Graco has made sure to let parents know the proper way to use the car seat in order to keep their kids safe. After all, that should be the most important part of the process. And you can't leave out their one-second LATCH attachment featuring Graco's exclusive InRight™ LATCH system for safety.
From my daughter's perspective, not only is the 4Ever comfortable and fun to ride in, but she absolutely adores the dual cup holders. In fact, just last night she told her older sister, "This is my cup holder. And this one is not yours." So, basically, her sister was not allowed to use either. Ha! Good thing the truck has an extra cup holder for her sister to use!
What is your favorite feature of the Graco 4Ever All-in-One?