Disclosure: I participated in an Ambassador Program on behalf of Influence Central for Panasonic. I received product samples as well as a promotional item to thank me for my participation.
---
When you homeschool, back to school may not have "all" of the same meanings as those that send their kids off to school each day. Colby and I are entering our thirteenth year of homeschooling our children. As the years have progressed, we have definitely improved at preparing and have even developed our own traditions. Some of those traditions involves "uniform shopping" and even first day of school pictures, just like everyone else, with the Panasonic Lumix G7.
Back to Homeschool
The uniform idea really comes from my dad. He pretty much calls our pajamas our uniforms. Yes, it is true that most of us don't get out of our pjs unless we absolutely have to, but we all kind of prefer it that way. Nevertheless, my dad asks the kids each year if they got new uniforms and it has become a back to homeschool tradition. The kids all get new loungewear for our back to school kick-off and then it's up to the classroom and straight to work. Well, after capturing a few pictures to share with my dad using the Panasonic Image app so he knows we are getting started!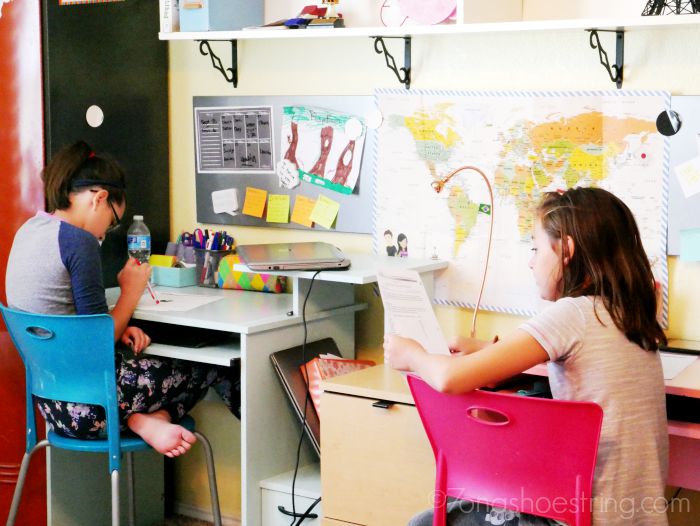 Speaking of the classroom, we have even changed things up in that area this year. We have had classrooms before, but not in the past 5 years or so. This school year, we actually hired our 20 year old, who is heading into her 4th year of college, to come in and tutor the girls. Therefore, collaboratively, the girls talked Colby and I into setting up a classroom… complete with a library of books. We bought all four of the girls new desks, refinished two of them, and then painted our upstairs loft area. It took us a week to transform the room from a playroom to a classroom, but the girls have really enjoyed the space.
Their days are filled with math mixed with numbers, PE exercises, and science experiments, and they have a great new learning area to do it all in. Plus, with a teacher in the room with them ready to help walk them through each lesson as needed, things are exciting again. After all, learning should be fun and these new enhancements has them eager to learn more. That has me… and them… jumping for joy!
We won't miss a second of our child's school years with the Panasonic Lumix G7. We can easily capture each scholarly moment in Superb DSLM (mirrorless) image quality without the bulk and weight of traditional DSLRs. And, if we need to capture video performances, the Panasonic Lumix G7 features 4K Ultra HD Video capabilities. PLUS, yes there's more to this camera, we can easily choose exact moments of video taken at up to 30 breathtaking frames-per-second, and extract it as an 8-megapixel still image. Straight from the camera! Like I said, we will never miss a moment of their learning journey with this camera!
Be sure to like Panasonic on Facebook and follow @PanasonicUSA on Twitter and Instagram to see and learn more.