---
Imagine a movie being made about your small town. You travel to the audition simply to drive your cousin who wants to give it a try and somehow end up with a role in the movie.
And not just ANY role… the role of Danny Diaz. THE Danny Diaz in McFarland, USA.
McFarland, USA Cast
If you haven't seen McFarland, USA yet… why not? If you have, you know exactly who Danny is.
He is runner #7. The anchor.
But you will learn that he, and the other 6 runners, are actually much more than that.
Is McFarland, USA a true story?
Plus this actor, Ramiro Rodriguez, is a real-life champion soccer player from the McFarland area.
The REAL Danny Diaz was his high school counselor.
In addition to Ramiro, Sergio Avelar (Victor Puentes) is also an actual runner and member of the McFarland Track Club. 
One of his coaches since elementary was the real Thomas Valles (played by Carlos Pratts). 
Michael Aguero, who plays Damacio Diaz, was also a runner from the area. For each of them, watching their small town suddenly be "on the map" has been a blessing.
"It's amazing. The town has changed for the better. There used to be a lot of crime back then, like gangsters and stuff, but now it's really holding down it's spot for the national spotlight. It's really coming together and being a community [the way] it should be."
People are now proud to say they're from McFarland. It has been life-changing for these young men.
Also new to acting was Rafael Martinez (David Diaz).
He actually skipped school to make the audition but has no regrets about it.
Who was David Diaz in McFarland?
Rafael was also probably the most soft-spoken and polite young man on the panel (not that they weren't all polite).
Not to mention, he has become one of my family's best friends!
What does David Diaz from McFarland do now?
All three Diaz brothers still identify as field workers, but all have college educations. David became an educator.
A bit more seasoned in their acting careers were the three remaining actors, Carlos Pratts (Thomas Valles), Hector Duran (Johnny Sameniego) and Johnny Ortiz (Jose Cardenas).
Who was the fastest runner in McFarland movie?
What each of the guys were not prepared for was the amount of running during the filming. They were running close to 12 hours a day for shooting.
5 to 6 miles were just the warm-up in addition to ellipticals, bikes, and more training.
They even brought in the local McFarland cross-country coach to help them with the training which began every morning at 8am.
All of that, plus the number of takes to get a shot, added up to much more than an actual 5K for these guys.
What is Johnny Samaniego doing now?
Johnny Samaniego ended up coaching cross-country for 10 years, before coaching the girls' basketball team at McFarland High School.
In fact, these 7 actors spent so much time together that they built genuine relationships off the set. They still hang out and text each other.
The way Rafael put it was that
"the chemistry you see on screen is exactly what we are in real life… if not more. We love each other as brothers and we never lost that connection. When they said cut, it was still there."
Hanging out with them in the interview room, you could definitely see that connection. If you follow them on social media, you can see it even more.
They are the real-deal and it's inspiring to see their interactions even when they are not on camera together.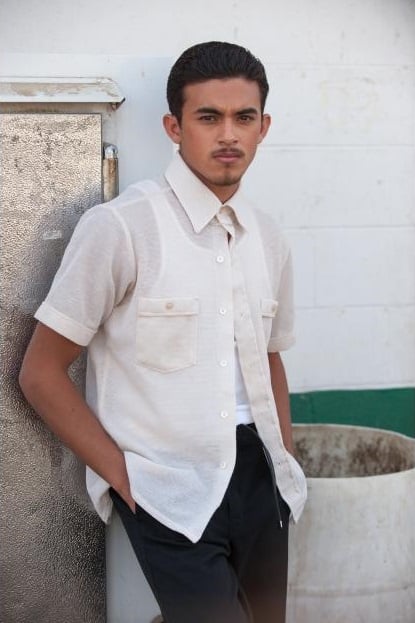 Speaking of being off camera, what did each of these young men take away from the movie?
For each one of them, it was a different lesson.
Hector believed that the film reinforced the "idea of equality and not judging a book by its cover."
That "once you get deeper into what's real and all the values that are there, you see that everybody's equal. Everybody has their own opinions. The only thing that separates us is the color of our skin, so we should try to treat each other equally."
Who is Jose in McFarland?
For Johnny, he wants people to take away these four ideals when they walk out of the theater: "motivation, dedication, inspiration, and anything's possible."
He says he walked away from a lifestyle filled with heartache and gangs. He broke the chain because he didn't want to live that life or go down that path. 
Mr. Ortiz believes that if he can do it anyone can.
Once you watch McFarland, USA, I think you will be inspired to believe the same thing!
Who did Thomas Valles marry from McFarland?
Finally, Carlos, who plated Thomas Valles, knew everyone would want to know what it was like working with Kevin Costner.
The real life Thomas Valles married his high school sweetheart, Martha, and they have three children together.
He stated, "Working with Kevin was amazing and the way he treats people, so honestly and so openly, as a young actor, it was great to see and really helped me understand the kind of man I want to be. Working with him was one of the best experiences of my life."
Carlos even told a story about how well Kevin Costner bonded with his 9 year old brother. Why did he share it?
The only reason I'm telling that story is because that person is the person that we spent 4 months with. And to answer who is Kevin Costner? How is he? He's that person.
McFarland, USA is already in theaters and doing well! Go see it! I cannot express how much I already love this movie and the actors in it.
Follow these guys to see where they are headed next!
---
READ WHAT KEVIN COSTNER SAID ABOUT THESE YOUNG ACTORS