---
It is no secret that we have a large family. By large, I mean we have 7 members of our family. And that is not even really true. We actually have 8. There is always that one extra person. But, that does not stop us from enjoying a small sedan when we get one. And the 2014 Ford Fiesta was definitely no exception.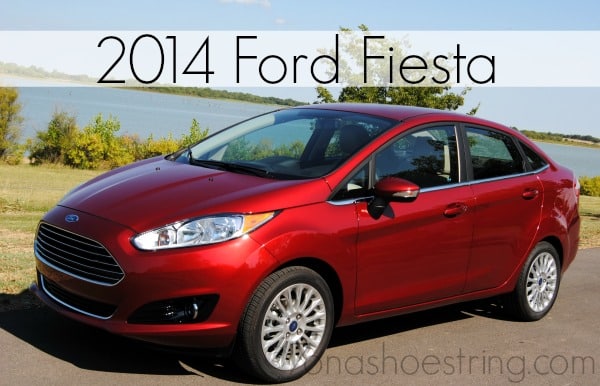 2014 Ford Fiesta
If you are looking for a fun, trendy, and stylish car, then you can find it all in the 2014 Ford Fiesta. From the outside sporty look to the leather-wrapped steering wheel and metallic trim inside. This sedan is full of character and ready for the road.
Start the car easily with the Intelligent Access Push-Button Start. A foot on the brake and a push of the power button and your vehicle is ready to drive. Not to mention, with the MyKey® feature, you can set up limits on speed (up to 80 miles per hour) and audio volume (up to 45 percent of maximum) based on keys. This means that when you give the keys to your teenager, you can rest assured that they cannot speed or bust the speakers in your car. Also a handy feature when you have to pass the keys over to a valet or other service.
Speaking of safety in the 2014 Fiesta, I am a big fan of the Belt-Minder® as well. Knowing that teens most likely want their music while in the car, the Belt-Minder warning system not only chimes until the seat belts are buckled, but it also keeps the audio system muted. So if they want their music they are going to have to buckle up. Not a bad feature to have on a family sedan.
During the EcoBoost Challenge recently, we were really able to feel the difference that Electric Power-Assisted Steering makes. The Ford Fiesta comes equipped with EPAS and I was so surprised how much easier it made handling the car. From the moment I began to drive it, the Fiesta responded better to my directions and maneuvered well. Turns were easy to navigate and the overall steering feel was smooth and adaptive. Definitely one of my favorite parts about driving the Ford line of EPAS vehicles.
Available in 7 different models, you are sure to find a Ford Fiesta to fit your lifestyle:
S Sedan
S Hatch
SE Sedan
SE Hatch
Titanium Sedan
Titanium Hatch
ST
Which Ford Fiesta model would fit you best?
The best way to learn about the Ford Fiesta is to follow the newest 100 agents of the Fiesta Movement.
Plus, be sure to follow Colby (@dodomesticdad) and I (@7onashoestring) on Twitter to learn about the most recent Ford vehicle we are driving. You can also follow the #FordTX hashtag and read what others have to say.