---
When was the last time you attended a Major League Baseball game? I had not been to one in probably 3 years. Therefore, when I was asked by Chevrolet if I wanted to go to a Texas Rangers game I jumped on the chance. Not to mention, they were going to loan me a 2014 Chevrolet Traverse to drive there in. Homerun!
2014 Chevrolet Traverse
The 2014 Chevrolet Traverse is a mid-size SUV that first caught my attention when I saw that it could seat up to 8. With a family of 7… and one additional person with our future son-in-law, this was perfect for us! There is plenty of room for all of us, as well as any luggage or other items we may pick up along the way.
This past week though, it was the car for the ladies. That's right. We had a fantastic #ChevyLadies Night watching the Texas Rangers win over the Miami Marlins. And watching the game was only half the fun. We had way too many laughs getting there… and then cheering on everyone walking past us as we were leaving the ballpark. I did not get video of that craziness because I was driving but I assure you it was a lot of silliness. We truly enjoyed ourselves.
Let's talk about the main reasons we loved driving the Chevy Traverse:
Chevrolet® MyLink® with Navigation: The 6.5″ Color Touch Navigation screen made maneuvering through the streets of Dallas much easier. We put our location address into the system and sat back. The Traverse directed us straight to the ball park and even gave us a heads up on upcoming congestion. NavTraffic let us know that within 10 minutes we would be sitting in traffic. It was right on. 
Automatic Tri-Zone Climate Control: With 4 ladies in the car, you better believe we all have different comfort levels when it comes to being cool. This feature gave each of us the ability to control our own temperatures as far as the driver, passenger, and rear zones. Plus, since it is automatic, you can set it and forget it so you can just be comfortable the entire drive.
Heated and Cooled Front Seats: And if the Automatic Tri-Zone Climate Control wasn't enough, there are also heated and cooled front seats. I always get a kick out of turning them on without my sister knowing. She had no idea why she was cooled off so quickly but finally figured it out when I dropped her off at home. 
Remote Vehicle Start: I must admit, 4 girls walking through a busy parking lot can be a little intimidating. So, having the remote vehicle start meant that we could start the Traverse before we actually got to it. Climbing inside and instantly feeling the coolness of the A/C blowing into our faces after a long Texas summer night was not bad either.
Forward Collision Alert and Lane Departure Warning: Because safety is always an important issue with moms, these two features combined are amazing. The Forward Collision Alert warns you when you get too close to cars directly ahead you. Lets you know you may want to back off a bit. The Lane Departure Warning alerts you when you may unintentionally drift out of your lane. Just try to switch lanes without a blinker and you see what I mean. Nothing wrong with a little guidance to drive safer.
The Traverse not only got us to Globe Life Park to watch the Texas Rangers, but it also seemed to bring some good luck along with it!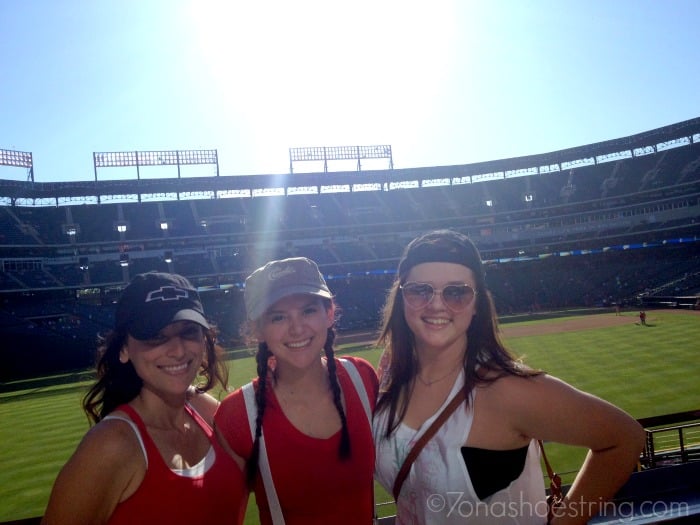 Yu Darvish, my absolute favorite pitcher really brought it that evening. He was smoking hot with fast balls, curve balls and more. So much so that the Miami Marlins did not score all night.
That's right! Yu Darvish pitched his first complete game… and it was a shutout! You simply could not beat that. The crowd went wild and the feeling inside the stadium was electrifying.
Now you can see why we were all celebrating once we got back into the Traverse!
My 10 year old daughter even did her own review "from the backseat" to show you what the kids think as they ride:
What are your favorite features of the 2014 Chevrolet Traverse?
Learn more about the Traverse and other models by liking Chevrolet on Facebook of following @ChevyLife on Twitter.