In an effort to do something different this year for our oldest daughter, I decided to put together 12 months of creative date ideas for couples.
She will be getting married in August and I want to given them as much advice as I can along the way. Not to in an "in their face" kind of way though.
This post may contain affiliate links, which means I'll receive a commission if you purchase through my links, at no extra cost to you. We are a participant in the Amazon Services LLC Associates Program, an affiliate advertising program designed to provide a means for us to earn fees by linking to Amazon.com and affiliated sites. [Learn more]
Monthly Date Ideas
These monthly date ideas for couples were my solution.
12 envelopes. Each filled with instructions for the date, as well as any necessary gift cards, supplies and printables.
Plus, each letter inside begins with a scripture that helps to bring the entire unique date idea together. They loved it and I am simply praying they are able to walk away with a better start to their marriage than Colby and I had with all of these fun things to do on a date.
Rock Climbing
One of my favorite scriptures is found in Ecclesiastes 4:12. It states that, "A cord of three strands is not quickly broken."
With this in mind, I sent them Rock Climbing. The rope is significant in bringing this verse to life. A Groupon for Rock Climbing and a gift card to Subway completed this simple couple date idea.
Ice Cream Date
This isn't just any ice cream date night.
I included a Cold Stone Creamery gift card and gave them instructions on what to do once they arrived. Actually, even before they arrived.
No discussing flavors. Why?
Instead of picking out their own ice cream, they will choose for the other. They will then discuss why they chose the flavor they did and work on being "humble and gentle" (Ephesians 4:2) no matter how they feel about the treat they were given.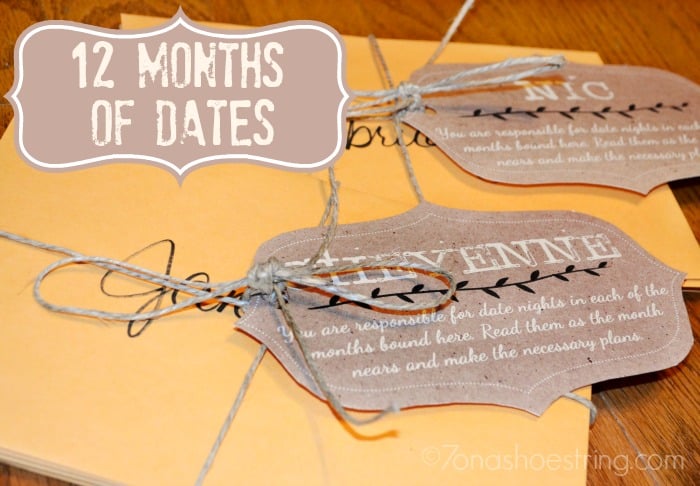 Date at the Theater
Let me explain, "The theater can be a magical experience. The drama being played out live in front of you is captivating. Much different than that of a movie. The action is more intense and the people are real. Now imagine yourself from the outside looking in. How much drama do you bring to your marriage?" Yep.
It's all about treating each other with love and respect without the drama. I gave them a voucher for our local Performing Arts Center for an entertaining date night.
Wedding Month
This month is unplanned. Why?
Well, because they have a honeymoon to plan. But, there are also going to be days prior to the wedding when they need time alone to relax and wind down.
Therefore, I left it TBD. There were several fun date ideas I had in mind but wanted to gauge what they would need later.
Perhaps a couples massage? The most important thing I could think to teach them in their wedding month was this, "And now these three remain: faith, hope and love. But the greatest of these is love." (1 Corinthians 13:13) Love deeply. Love passionately. Love boldly.
These are the second set of four monthly date ideas of the year.
Each month with its own envelope that includes a letter full of my thoughts. Not too pushy. Just filled with marriage advice that Colby and I have learned along the way.
Find the first 4 months of dates here.
And the last 4 months of dates, with printables, here.
DIY Marriage Retreat
Are you both committed to doing the work to save your marriage? Do you feel like you're not yet ready for marriage counseling, but want to take a step towards resolution? Maybe you want to try a marriage retreat, but want to work in a private setting?
Try a DIY Marriage Retreat.
With a self-guided marriage retreat, you can:
Identify pain points
Initiate honest communication
Reconnect and Restore
Work, in private, at your own pace
Rebuild the foundation of your relationship, restore your marriage, and rekindle the romance with our DIY Marriage Retreat course.
Get access to 8 marriage modules, accompanying worksheets, 44-page workbook, and more for only $47 with our easy marriage retreat online.
Because you're here, sign up now and get a special 25% discount with the coupon code: OFLREADER25